At long last, Aaliyah is getting her own MAC makeup collection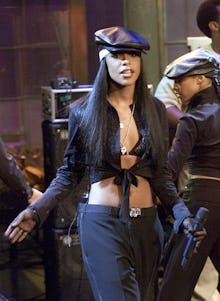 Sixteen years ago today, the music industry lost one of its brightest and coolest stars: Aaliyah. Now, at long last, MAC Cosmetics is paying tribute to her incredible style and beauty looks, with a makeup collection in her honor.
"Aaliyah is truly one in a million — an unstoppable icon whose groundbreaking work in R&B music and film inspires us all," MAC said in a press release. "Today we join her countless fans in celebrating her with the announcement of the MAC Aaliyah collection. You made it happen!"
On Thursday, MAC announced the collection via an Instagram video, which told fans that it'd be launching summer 2018.
In response, people seemed genuinely excited, writing things like: "Aaliyah will be so proud right now" and "A fitting way to celebrate Aaliyah's legacy."
Although paying tribute to a pop star who's been gone for more than a decade seems odd, it seems to be a bit of a habit for MAC, with the company announcing two years ago that it'd be creating a collection for Selena, who died in 1995.
Similarly to the Selena collection too, this Aaliyah collection comes after fans launched a Change.org petition, calling on MAC to pay tribute to the "Are You That Somebody" and "Rock the Boat" singer and style icon.
In that petition, fans noted that Aaliyah's brother said that she loved MAC products, and that he'd approve of a special collection in her honor. It also notes that her favorite products were: Chelsea Lipstick, Cherish Lipstick, Chestnut Lipliner, espresso eyeshadow, and biscuit eyeshadow.
Looking back at pictures of her, a brown lipgloss shade seems to be somewhat mandatory too.
If the collection ends up being replications of her favorite products from the past then, well, that'd be a pretty sweet tribute.