7 female designers who have changed the world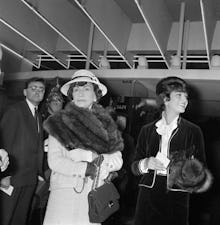 From clothing and architecture to the signs we pass on the street, design is an intrinsic part of our everyday lives.
But while many designs, including fashion staples and iconic logos, have become instantly recognizable, few know the talented designers behind their creation — many of whom happen to be women.
Here are just seven of the trailblazing female designers whose work has had a lasting impact on the world.
Coco Chanel
Perhaps no fashion designer has been more influential than famed designer Coco Chanel, whose revolutionary designs of the early-to-mid 20th century have been credited with developing the "modern woman."
Chanel's pioneering design released women from the constricting corsets that had defined their fashions thus far, drawing inspiration from menswear to give women more variety and comfort in their fashion choices than before. Women can thank Chanel's influence for such lasting fashion staples as women's pants, the little black dress, jersey fabric, the shoulder bag and more.
Zaha Hadid
Iraqi-born British architect Zaha Hadid emerged as one of the world's most renowned architects prior to her death in 2016. Known for her groundbreaking modern, undulating designs that earned her the nickname "Queen of the curve," Hadid became the first woman to win two of architecture's top honors, the Pritzker Prize and the Royal Institute of British Architects gold medal. Her buildings include the aquatics center for the 2012 London Olympics, the Guangzhou opera house in China and the Heydar Aliyev Cultural Centre in Baku, Azerbaijan.
"[Hadid's] global impact was profound and her legacy will be felt for many years to come because she shifted the culture of architecture and the way that we experience buildings," architect Amanda Levete told the Guardian following Hadid's passing.
Claire McCardell
Midcentury fashion designer Claire McCardell was a pioneer of ready-to-wear clothing for women and is credited with creating women's sportwear. Described by Time in 1955 as "the person who understands best how American women want to look," McCardell's designs defined the "American Look" through her functional dresses, ballet flats and other simple yet practical garments that gave women casual and versatile fashion options for everyday life.
"We look at her as the founder of democratic American fashion," Valerie Steele, the chief curator at the Museum at the Fashion Institute of Technology, told the New York Times.
Maya Lin
Architect and sculptor Maya Lin is best known for designing the Vietnam Veterans Memorial in Washington, D.C., which has become one of the most well-respected and widely-visited memorials since it was first unveiled in 1982. Lin earned the design gig by winning a blindly-judged contest when she was still a 21-year-old student at Yale University, and when her abstract, mournful design — and Lin's Chinese-American heritage — became a source of national controversy, the young architect helped assure its success by testifying directly to Congress about her design.
Since then, Lin has gone on to become a prolific and renowned architect, whose other works include the Civil Rights Memorial in Montgomery, Alabama, and Yale University's Women's Table.
Eileen Gray
One of the most influential — and lesser-known — pioneers of modernist design is Eileen Gray, an Irish-Scottish designer who became one of the most important furniture designers and architects of the early 20th century. Gray's best-known minimalist, geometric designs include the Bibendum armchair and the E1027 villa, a residence on the Côte d'Azur that Gray designed and furnished.
Ann Lowe
Paving the way for female designers of color was midcentury designer Ann Lowe, who designed gowns for America's high-society women and became the first internationally-recognized African-American fashion designer.
Lowe was known as society's "best kept secret" of the time, even though her work included such high-profile gowns as Olivia de Havilland's 1946 Oscar dress and, most famously, the wedding gown worn by Jacqueline Kennedy in her wedding to future president John F. Kennedy. Lowe's salon, the American House of Ann Lowe, earned her the distinction of being the first black designer to open a store on Madison Avenue.
Paula Scher
Though they may not know her name, almost everyone will recognize some of the iconic designs created by graphic designer Paula Scher, including logos and branding for Citibank, Windows 8 and Tiffany & Co. She has become a titan in the world of graphic design over her four-decade career, earning over 300 awards from international design associations.
Scher, who currently serves as a principal at the design firm Pentagram — becoming the first woman to do so — is known for a bold, typographic style that many in New York City, in particular, will find familiar. The designer is behind many of the brand identities for the city's cultural institutions, including the New York City Ballet, Public Theater, and the Museum of Modern Art.