The evolution of Afropunk: How a documentary evolved into a global festival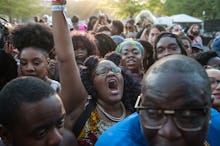 SZA, Goldlink, Thundercat and Kaytranada are regarded as modern music savants. But years before mainstream publications waxed poetic about their artistry, they were at Afropunk. Three years ago, SZA had a small but dedicated community of fans, but was barely a blip on the radar in the larger pop stratosphere. But the New Jersey songstress performed at the festival, giving her a larger audience, solidifying her as one to watch — a similar narrative for the aforementioned artists.
Afropunk, the largest black alternative music festival, has welcomed underground acts like Mykki Blanco, Jean Grae, Lolawolf and Alice Smith and huge headliners like D'Angelo, Erykah Badu, Lauryn Hill and Grace Jones. This year, the Commodore Barry Park event has an equally diverse lineup with a crowd expected to be well over 60,000 attendees. SZA — having released her lauded debut album this year — will return, in addition to Solange, Raphael Saadiq, Anderson .Paak, Gary Clark Jr., Macy Gray, Willow Smith and many more. But before all the fanfare, the A-list attendees, street-style photo galleries on Vogue and general hoopla around the two-day festival, there was a profound reason behind it.
"For me, it was really about creating a scene where I could be 100% authentically me," co-founder James Spooner told Fader in a 2015 interview. "Just like the punk scene that I grew up in, the people off the stage are just as important as the people on stage. I made a shirt that said, 'Fans Are the Bands and Bands Are the Fans.' That was how I wanted my world to be. I wanted to make art."
Born in the spirit of rebellion, the current iteration of Afropunk was inspired by Spooner's 2003 film about African-American youth who loved alternative rock music. In the bevy of mosh pits, these minorities within a minority were the focus of the documentary, which was revolutionary during a time when a large sect of the black community was bopping to mainstream fare like Nelly's Nellyville and Ashanti's Chapter II.
Spooner's film Afro-Punk about being the only black person at concerts — in a genre created by black people then co-opted by white people — gained steam. The documentary was so successful at national film festivals that he started to host "Liberation Sessions," Afro-Punk screenings followed by performances from alternative acts. From the events came an Afropunk online message board. And from the message board followed a free, four-day intimate event for a couple hundred black people who loved alternative music. Artists like Living Colour and Fishbone were there in the beginning, and all of the events were inclusive of LGBTQ communities.
In 2005, Spooner partnered up with Santigold's manager, Matthew Morgan, and they held the first official Afropunk Festival at the Brooklyn Academy of Music in Fort Greene, New York. The combination of indie films, performances and a final-day picnic in Fort Greene was more than Spooner could have imagined from the film, and he enjoyed the success until 2008 when he split from Afropunk.
"It felt like, 'this is why I'm doing this'," Spooner told Fader about the first year of the festival. "For me, this film is my biography up to that point in my life. That film seemed like a manifesto for all of these people. [People] were calling and identifying themselves as afropunks. I remember 'afropunk' being used as an adjective and being like, 'No, no, no, we're doing the thing we were fighting against.' Eventually, I just had to like succumb because it belonged to everybody."
Like all things good in Western society where commodification is king, Afropunk — who's evolved punctuation and uppercase letters indicate its growth — went from a small community of hard rock fans to a global audience. The festival has now expanded to London, Paris, Atlanta and Johannesburg with thousands of people showing up for top-notch produced shows with huge acts. In addition to concerts, the brand of Afropunk creates mixtapes, holds intimate events and even curates music-related parties.
Afropunk's biggest concern now: toeing the line of rightfully profiting from its mainstream success and succumbing to a potential whitewashing in a neighborhood far more gentrified than when the festival began 12 years ago. The year 2015 was when they first began charging, which resulted in some outrage and even talk of "selling out."
Unapologetic about their success, Afropunk doesn't believe they're selling out, but benefitting from creating an event that caters to an ignored audience.
"There's a whole value proposition that we have to invest in ourselves," Morgan told Vice. "What is it that people like about the festival? What is unique? What is important? How does it make you feel? And if that experience collectively isn't worth $70, then we don't deserve it. Then go to Pitchfork. Go to Lollapalooza. Go to Bonnaroo. Go support them with your money. Or, stay home."