Travelers tend to avoid long layovers — here's why (and how) to embrace them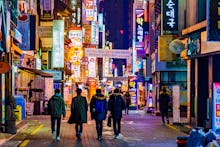 Long layovers are the bane of most travelers' existence. There's nothing worse than trying to pass time in an airport when you just want to get to your destination or home. But what if those long hours actually turned into the highlight of your trip?
"Most people look at a long layover as negative because you're either stuck in an airport, have to pay for a hotel, or just hate killing the time," George Hobica, founder of Airfarewatchdog, said by phone. "I look at it as getting two cities for the price of one."
In recent years, I have adopted this outlook as well. In 2014, while trying to find cheap airfare to Stockholm, I realized I would have to succumb to an eight-hour layover in Norway on the way back. At first, I was a bummed that we would lose a day, but after some research I realized we could easily pop into Oslo for the day.
We took a train to the city center, locked up our luggage and saw Edvard Munch's The Scream painting at the National Museum, sampled whale meat at the Christmas market and caught a glimpse of Nobel Prize winners, who happened to be in town for the ceremony, all before flying home.
Since then, I book long layovers whenever possible. This has allowed me to climb the Great Wall of China on my way back from Sydney, take a ride up the Space Needle and eat my way through Seattle, add two days in Amsterdam on my way back from my honeymoon in Tanzania and I just spent a full day in Guangzhou, China, before returning from Bali, Indonesia.
These trips might sound indulgent, but I actually saved money by adding on to my trip. "Most people look at flights with long layovers as undesirable," Hobica said. "This drives the cost down, meaning you could save $300, $400 or even $500 on your airfare. That could easily pay for a day of exploring a new location and even a hotel stay if needed."
Some airlines have made it even easier (and cheaper) to check out their home city, especially if you're coming from a big hub like New York City, where I live.
Qatar Airways announced in May that they'd be offering two-night stopovers in Doha, Qatar. Their special offers page lets you book a four- or five-star hotel for $50 a night, and add on a city tour, a desert safari and dinner aboard a traditional dhow. Finnair has a program where you can spend from five hours to five days in Helsinki catching the Northern Lights or trying out a sauna on tours starting from 75 euro ($88), at no extra cost. You can also make a pit stop in Abu Dhabi through Etihad Airways or Amsterdam with KLM.
In fact, it was the free stopover programs in Reykjavík offered by Icelandair and Wow Air that led to a major boom in the country's tourism industry over the last six years. In 2010, the annual number of global visitors was just 459,000, but that number grew to over 1.7 million in 2016. Given their proven success, it's likely even more airlines will add similar programs in the coming years.
Even if an airline or country doesn't have a stopover system in place, there are still a number of cities where it's easy to pop in for a day.
"European cities in general are the best for long layover especially if you're continuing onto Africa, the Middle East or Asia," Lee Abbamonte, who says he is the youngest American to visit every country, said by email. "This is because there are generally many options from major U.S. gateways to major European gateways and only one onward. It's not hard to visit spots like Istanbul, London and Paris."
Keep an eye out in particular for cities that have stellar connections between the airport and city center. Destinations like Seoul, South Korea, are incredibly easy to visit after a super-fast Maglev Train was connected to the Incheon International Airport in February 2016, which gets you to the city's subway system at Yongyu Station in minutes. In about 25 minutes, you can go from Toronto Pearson International Airport to Union Station (the base for Toronto's subway system and Canada's train network), and the infrastructure is similarly easy in Hong Kong, Stockholm, Singapore and Zurich.
"Don't forget the U.S.," Hobica said. "The Boston subway station makes it easy to get into downtown from Logan airport, you can visit museums and monuments in Washington, D.C., with a long layover at Dulles airport, and Portland, Oregon's, airport is only 10 miles from the walkable downtown."  
A Google search of these destinations (just type in "what to do in eight hours in Seattle" for example) will often reveal independent tour companies built to maximize your time in the city too. For my trip to Beijing, I used a company called Beijing Layover Tours that creates itineraries for travelers with a minimum layover of six hours. You can book a Paris Transit Tour if you're there for seven hours or more, and London Tours by Taxi offers private tours of the city's highlights starting at $160 for up to six people. It's also important to note that most airports and train stations have day lockers, so you don't have to lug your bags around.
So how do you go about finding these long layovers? "First, check to see if the airline you're flying or country you're visiting has a free stopover program in place," Hobica said. "Otherwise, if you're using an online tool, adjust the toggles choosing longer flight times and/or max connection times. This will give you the long layover you're looking for."
If this seems too complicated, there's always the old-fashioned option, Hobica said. "Of course, you can always call the airline to book requesting a long layover, too."