GOP passes a resolution condemning the white supremacist rally in Charlottesville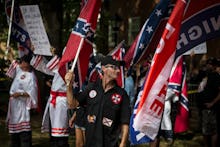 The Republican Party passed a resolution at its summer meeting on Friday "condemning the violence and racist beliefs of white supremacists" who descended upon Charlottesville, Virginia, earlier this month for what turned into a violent and deadly rally.
The resolution comes after President Donald Trump blamed "both sides" for the violence that erupted, calling some people at the white supremacist rally "very fine people."
The resolution, which refrains from mentioning Trump by name, appears to be an effort by Republicans to distance themselves from the white supremacist groups that have expressed support for Trump, leading to fears within the GOP that the party could be branded as racist and intolerant.
"The racist beliefs of Nazis, the KKK, white supremacists and other like-minded groups are completely inconsistent with the Republican Party's platform," the resolution read.
The resolution goes on to say the party "continues its historical struggle for individual rights and empowerment and rejects intolerance, racism and racist prejudices, policies and promoters," and that "the racist beliefs of Nazis, the KKK, white supremacists and others are repulsive, evil and have no fruitful place in the United States."
Some Republican leaders, however, were frustrated by the fact that such a resolution would be necessary.
"It's amazing that we have been lured into this argument that we're not racists. It's absurd," Colorado Republican Chairman Jeff Hays told the Associated Press. "Why would we feel compelled to do that?"
Aug. 25, 2017, 2:17 p.m.: This story has been updated.