While You Weren't Looking: 5 political stories that aren't feuding with Mitch McConnell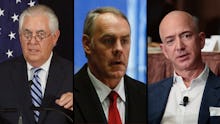 This week President Trump publicly feuded with members of his own party, teased a new vague strategy in Afghanistan and stunned many after an unhinged rally in Phoenix.
Though this week was arguably less of a spectacle than most, there were still plenty of major policy stories that flew under the radar. Here's what you might have missed.
FTC approves Amazon's Whole Foods acquisition
On Wednesday, the Federal Trade Commission approved e-commerce giant Amazon's acquisition of upscale grocer Whole Foods. The deal received some skepticism from anti-trust advocates and Democrats worried the deal wasn't properly vetted. Sen. Amy Klobuchar (D-Minn.) has sent a letter to the FTC demanding the commission explain why it approved the decision so quickly.
"Examining such complicated issues is the FTC's primary responsibility," Klobuchar wrote. "And I will be calling on the FTC to provide an explanation for why they made such a quick decision regarding this merger."
Amazon plans to finalize the deal as soon as Monday.
NIH erases references to climate change
A new report from the Environmental Data and Governance Initiative claims that the National Institutes of Health has erased references to climate change from one of its public-facing websites.
"The National Institute of Environmental Health Sciences has altered climate change language, updated climate change references and reduced access to a web resource with information on climate change and human health across several web pages," the report states.
The move follows similar actions by the administration at other agencies. Earlier this month it was reported that the U.S. Department of Agriculture was prohibited from using the term "climate change" in official works.
Interior secretary announces plans to shrink size of federal lands
Interior Secretary Ryan Zinke announced on Thursday that he would not move forward with a controversial plan to rescind the national monument designation given to certain areas. Instead, Zinke announced plans to change the borders to some existing federal monuments, effectively shrinking them.
The move is less extreme than environmental activists had previously feared but will still strip large swaths of land from federal protection.
Last county without an Affordable Care Act option gets covered
On Thursday, nonprofit health insurer CareSource announced it would cover the last county in the nation without an insurance option on its individual market — effectively solving one of the Affordable Care Act's major problems.
Ohio's Paulding County was the last county in the nation where no insurers chose to provide health care on the individual market, despite the fact that individuals above a certain income threshold are required to purchase insurance or face a tax penalty.
Republicans had harped on the existence of so-called "bare counties" during their attempt to repeal and replace the ACA. While many counties still have a limited number of insurers, CareSource's actions will deny Republicans a major talking point in their battle against Obama-era health reform.
State Department employee resigns with an IMPEACH acrostic
This week, the State Department's science envoy resigned in protest following Trump's response to the white supremacist rally in Charlottesville, Virginia.
"Your failure to condemn white supremacists and neo-Nazis has domestic and international ramifications," wrote the now-former Science Envoy Daniel Kammen.
His letter of resignation caught the attention of some Twitter users for the fact that the first letter of every paragraph spelled the word IMPEACH when combined from top to bottom.