Trump pardons former sheriff Joe Arpaio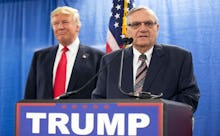 President Donald Trump pardoned former Maricopa County Sheriff Joe Arpaio on Friday — Arpaio was convicted of criminal contempt in July after refusing a court-ordered mandate to stop racially profiling Latino people.
"Arpaio's life and career, which began at the age of 18 when he enlisted in the military after the outbreak of the Korean War, exemplify selfless public service," the White House said in a statement announcing Arpaio's pardon. 
The announcement came in a Friday night news dump while many across the country were following the news of Hurricane Harvey, the strongest hurricane to make landfall in the U.S. since 2005.
Trump floated an Arpaio pardon at a rally he held on Tuesday in Phoenix. While Trump didn't pardon Arpaio at that rally, he strongly hinted at his intentions to do so.
Trump's Arpaio pardon is rare, coming before Arpaio has even been sentenced.
Pardoning guidelines recommend that those seeking pardons wait "at least five years after conviction" and also show "acceptance of responsibility, remorse, and atonement" for their crime.
"A petitioner should be genuinely desirous of forgiveness rather than vindication," according to Department of Justice pardoning guidelines.
Arpaio was just recently convicted, and planned to appeal his conviction.
Arpaio was one of Trump's earliest supporters.
"Let me tell you something about Donald Trump," Arpaio said at a 2016 rally in which he endorsed Trump. "This guy is different. Much different."
An immigration hardliner, Arpaio campaigned with Trump, supporting his promise of a border wall with Mexico. He's perhaps known best for creating "Tent City," an open-air jail in which inmates were housed outdoors in the brutal Arizona heat.
"Sheriff Joe Arpaio is now 85 years old, and after more than fifty years of admirable service to our nation, he is worthy candidate for a presidential pardon," the White House concluded.
A number of groups came out to condemn Trump's decision to fire Arpaio.
"With his pardon of Arpaio, Trump has chosen lawlessness over justice, division over unity, hurt over healing," ACLU deputy legal director Cecillia Wang said in a statement. "Once again, the president has acted in support of illegal, failed immigration enforcement practices that target people of color and have been struck down by the courts. His pardon of Arpaio is a presidential endorsement of racism."
Aug. 25, 2017 9:01 p.m.: This article has been updated.