Hurricane Harvey slows as it batters Texas, but FEMA chief says "this is just the beginning"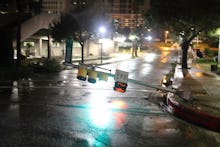 Hurricane Harvey made landfall Friday night, pounding the Texas coast with winds upward of 130 mph and heavy rains that could bring "life-threatening" flooding to parts of the state.
The slow-moving storm is becoming a "deadly inland event," according to Brock Long, administrator of the Federal Emergency Management Agency.
Harvey — the most powerful hurricane to hit the United States mainland in more than a decade — arrived in Texas as a Category 4 hurricane, the second highest hurricane classification, around 10 p.m. local time.
It has since been downgraded to a Category 1 hurricane, but continued heavy rainfall and strong winds are threatening to bring storm surges of up to 12 feet above sea level to the Texas coast, according to the National Hurricane Center.
"This system is still impacting the area," Long said during a Saturday morning interview on CNN. "We do know there are damages occurring, but this is just the beginning."
Harvey has damaged structures, downed trees and power lines and left more than 200,000 Texans without power as of Saturday morning, CNN reported. Deadly storm surges were still expected to come as President Donald Trump signed a disaster declaration for the state.
"We are leaving nothing to chance," Trump tweeted early Saturday morning. "City, state and federal govs. working great together!"
It was unclear Saturday morning if the storm, moving slowly over the Texas Gulf, had caused any fatalities, but forecasters warned that some parts of the state would be rendered "uninhabitable for weeks or months," according to CNN.
Long told CNN his team was still unable to assess the full extent of the damage wrought by Harvey because the situation was still unfolding, but the storm was shaping up to be a "devastating long and frustrating event" for Texas, similar to Tropical Storm Allison in 2001.