Trump praises FEMA head over Hurricane Harvey response as Texas braces for "catastrophic" flooding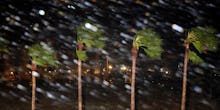 President Donald Trump early Saturday commended Brock Long, his Federal Emergency Management Agency head, for "doing a great job" on Hurricane Harvey — the "life-threatening" storm battering Texas with strong winds, heavy rains and potentially devastating floods.
"The world is watching!" Trump tweeted to Long Saturday. "Be safe."
Trump's praise for Long came as the sun came up on the damages the storm wrought on Texas after making landfall Friday night — and before the extent of those damages had been able to be assessed by FEMA.
"This system is still impacting the area. We can't put our staff in harm's way to conduct preliminary damage assessments," Long said on CNN Saturday morning. "We do know there are damages occurring, but this is just the beginning."
The storm hit the Texas coast around 10 p.m. local time Friday night as a Category 4 hurricane — and the United States' strongest hurricane in over a decade. It has since been downgraded to a Category 1, but high winds and downpours from the lingering storm is threatening to bring severe flooding to Corpus Christi, Houston, Galveston and elsewhere in South Texas.
As images from the powerful storm began circulating online, officials — including Houston Mayor Sylvester Turner — urged residents in the path of the storm to remain safe as the area braced for storm surges and gave messages of support.
But a trio of political moves by Trump as Harvey bore down on Texas Friday evening also captured attention, with some accusing the president of using the storm as cover for a series of controversial political moves.
Hours before the slow-moving storm made landfall Friday, Trump ousted adviser Sebastian Gorka, officially banned transgender Americans from serving in the military and pardoned former Sheriff Joe Arpaio — a spate of actions critics like Senate Minority Leader Chuck Schumer (D-N.Y.) said were undertaken while the eyes of the country were trained on Texas.
"The only reason to do these right now is to use the cover of Hurricane Harvey to avoid scrutiny," Schumer tweeted Friday night. "So sad, so weak."
Trump — who is facing his first natural disaster as president — signed a disaster proclamation for Texas on Friday and on Saturday said that his administration is keeping a close eye on the situation.