This week in Trump-Russia news: Investigations eclipsed by White House scandal, domestic strife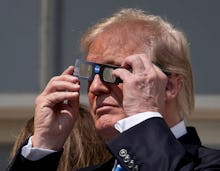 Yes, the investigations into President Donald Trump's ties to Russia are still ongoing.
You may have forgotten that amid all the white nationalist rallies, threats from North Korea, major administration shakeups, whatever the hell this was — oh yeah, and that big ol' eclipse, which Trump decided to stare at directly.
But all the while, the investigations into Trump's campaign marched on. Here's what happened this week in the Trump-Russia probe.
Mueller looks into Flynn's connection to hack of Hillary's emails
Former national security adviser Michael Flynn — long a focus of the Russia probe — is now being investigated by special counsel Robert Mueller for possibly working with hackers to get emails from Hillary Clinton's private server, according to a Wall Street Journal report Friday.
In July, Republican operative Peter Smith was reported to have posted to a Russian hacker forum seeking illegally obtained Clinton emails — and suggested he was working with Flynn.
"He said, 'I'm talking to Michael Flynn about this — if you find anything, can you let me know?'" Eric York, a computer security expert from Atlanta who searched hacker forums on Smith's behalf, told the Wall Street Journal last month.
Smith told the Wall Street Journal that he believed the emails could hurt Clinton, but that he could not determine the authenticity of the emails hackers claimed to have recovered and encouraged them to leak the messages to WikiLeaks instead.
He committed suicide days after speaking to the Wall Street Journal, at age 81.
Mueller is now reportedly examining whether Smith was, indeed, working with Flynn — whose White House job was swept up in the Russia scandal less than a month into Trump's presidency — and the retired general's son, Michael Flynn Jr.
Closing in on Manafort?
Mueller seems to be getting increasingly close to Paul Manafort, who in July had his Virginia home raided by federal agents as part of the special counsel's probe.
On Friday, NBC News reported that Mueller has issued subpoenas for public relations executives who worked with the former Trump campaign chairman on an earlier campaign he orchestrated on behalf of a pro-Russia political party in the Ukraine.
Mueller is compelling the executives involved in the 2012-2014 campaign to testify before a grand jury in a move that indicates the legal trouble Manafort may find himself in.
Manafort, along with adviser Jared Kushner, was present for a now-infamous 2016 meeting between Donald Trump Jr. — the president's eldest son — and a Kremlin-connected lawyer who supposedly had damaging information about Clinton that had been gathered by the Russian government.
It was reported this week that Mueller has issued grand jury subpoenas as part of his probe into that meeting, as well.
While the use of a grand jury doesn't automatically mean indictments are on the way, it does mark a new phase of the FBI investigation, which the president has repeatedly described as a "witch hunt."
Trump keeps right on Trumping
Trump has remained upset about the investigations into his campaign.
This month, Politico reported on Wednesday, Trump quarreled with two of his fellow Republicans over Russia policy they were working on.
Senate Foreign Relations Chairman Bob Corker (R-Tenn.) told the publication Trump had tried to persuade him to change or abandon the Russia sanctions bill the president reluctantly signed Aug. 2.
Soon after, Trump called Sen. Thom Tillis (R-N.C.), who is working on bipartisan legislation to keep him from firing Mueller, a Tillis spokesperson confirmed to Politico.
"It seems he is just always focused on Russia," a senior GOP aide told the publication.
As the Washington Post notes, the tiffs with Corker and Tillis are just two of the most recent instances in which Trump has seemingly attempted to intervene with the Russia investigation — including the reports in May that Trump had asked then-FBI Director James Comey for loyalty and for him to lay off his probe into Flynn.
Those incidents — and the May firing of Comey — led some to allege that the president had obstructed justice, accusations Mueller's probe began examining soon after.
Congress questions about the "pee tape" dossier
Glenn Simpson — the ex-Wall Street Journal reporter who commissioned the infamous 35-page dossier documenting Trump's ties to Russia — interviewed with investigators from the Senate Intelligence Committee on Tuesday, where he stood by the document's claims that Russia has compromising information about the president.
Fusion GPS, a private research firm that Simpson helped found, hired former British intelligence officer Christopher Steele to gather information about Trump in 2016. The dossier — which CNN reported on and Buzzfeed published parts of in January, days before Trump's inauguration — alleged Russia had been "cultivating, supporting and assisting Trump for at least five years" with the aim of encouraging "splits and divisions in western alliance." 
It also contained a claim that Russian operatives had obtained a video — which is often referred to as the "pee tape" — of Trump in a Moscow hotel room with prostitutes performing a "'golden showers' (urination) show in front of him" on a bed his White House predecessors Barack and Michelle Obama had previously slept on.
While elements of the dossier may have been corroborated by the FBI, according to reports, it isn't clear which of its previously unverified claims could have been substantiated.
Simpson reportedly provided the Senate investigators with around 40,000 documents in support of the explosive dossier, and his lawyer, Josh Levy, said Simpson's firm was "proud of the work it has conducted and stands by it."
Sen. Richard Blumenthal (D-Conn.), speaking this week on Morning Joe, said that the transcript of Simpson's 10-hour testimony Tuesday should be made public and that Simpson should give an open testimony.
"He has, potentially, knowledge about matters relating to Trump collusion with the Russian meddling, as well as possible obstruction of justice," Blumenthal said.