Hurricane Harvey now a tropical storm as Texas Gov. Greg Abbott warns of "dramatic" flooding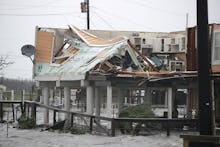 As Hurricane Harvey continues to hammer the Texas Gulf Coast with dangerous amounts of rain and high winds, officials are warning that the biggest threat to the state will be the "catastrophic" flooding that is expected to devastate much of the coastline in the days to come.
"Now that the hurricane has come onshore our primary concern remains 'dramatic flooding,'" Texas Governor Greg Abbott told reporters in a press conference Saturday afternoon. He added that some areas have received more than 20 inches of rain and that as much as 30 inches more is expected over the next few days.
Officials have already begun a large-scale search and rescue operation in search of victims. Officials in Aransas County, one of the areas hardest hit by damage so far, have started to confirm fatalities. Roy Laird, the assistant chief of the Rockport Volunteer Fire Department told the Los Angeles Times that three people have died since the storm made landfall. A judge in the county told CNN that there was one confirmed fatality and 12 to 14 injuries.
"The state and various agencies remain very active in the search and rescue process and that will be one of the foremost tasks that we undertake in the coming days," Abbott said.
As of 1 p.m. local time Saturday, Harvey had been downgraded from a Category 1 hurricane to a tropical storm while it traveled north with winds still surpassing 70 mph. It originally made landfall as a Category 4 hurricane — the most powerful such storm to hit the U.S. mainland in more than a decade.
According to CNN, more than 250,000 total customers had lost power throughout the Texas coastal region.
Both the National Weather Service and the National Hurricane Center have stressed that despite the storm having been downgraded, "catastrophic" and "life-threatening" flooding will likely plague much of the region through the weekend and into next week.
"We could see isolated areas with rainfall amounts as much as 40 inches and that's going to cause life threatening flooding over the next several days," Mike Brennan, a senior hurricane specialist at the National Hurricane Center told NPR. "We're really looking at a multi-day rainfall disaster unfolding."
Harvey made landfall on Friday at about 10 p.m. local time near Rockport, Texas, a small town of about 10,000 residents that has, so far, been among the hardest hit by the storm. Mayor CJ Wax told MSNBC that the hurricane has already caused "widespread devastation" in Rockport. "We've had businesses and homes that were completely destroyed and certainly a number of lives that, at best, have been disrupted, significantly," he said.
Further east, Corpus Christi was reporting "untold flood damage," according to the San Antonio Express-News. Tornado and flash flood watches and were in effect in Houston, CNN reported, and more than three inches of rain had fallen over the previous 24 hours with much more expected in the next several days.
"This is going to be a major rainmaker," Houston Mayor Sylvester Turner told the network. "This is just day one. We anticipate four to five days of this."
Aug. 26, 2017 4:20 p.m.: This article has been updated.