How does Trump's pardoning of Joe Arpaio compare to other presidential pardons? It doesn't.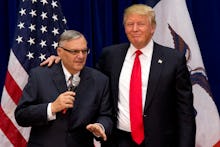 President Donald Trump issued a pardon for Joe Arpaio on Friday, keeping the self-styled "America's Toughest Sheriff" from facing prison time for continuing to racially profile Latinos after a court ordered him to stop.
Arpaio — a staunch Trump supporter and fellow immigration hardliner — was convicted of criminal contempt in July for refusing to obey a court-ordered mandate that he stop detaining immigrants solely based on the belief they were undocumented.
Trump indicated at a wild rally Tuesday in Phoenix that he would pardon "Sheriff Joe," but didn't at the time, saying "I don't want to cause any controversy, all right?"
Perhaps seeking to scuttle the fallout for pardoning the controversial sheriff, Trump announced the move Friday night — as Americans watched devastating Hurricane Harvey bear down on the Texas coast.
How do pardons normally work?
It wasn't just timing that made Trump's pardon of Arpaio unusual.
The president has extensive pardoning power, as defined by Article II of the United States Constitution. However, the Department of Justice outlines five standards that typically justify pardons: post-conviction conduct, the seriousness and recency of the crime, acceptance of responsibility, need for relief and official recommendations.
Arpaio has plainly declined to accept responsibility for disobeying court orders, calling his conviction a "political witch hunt" — not unlike the way Trump describes the investigations into his Russia ties — by members of former President Barack Obama's administration.
The crime for which he was convicted, too, would seem to make him a non-traditional candidate for a pardon.
When Trump took the Oath of Office, he promised to "preserve, protect and defend the Constitution of the United States." Now, just over 200 days into his presidency, he has used his power to pardon someone who was convicted for explicitly violating said Constitution.
"Arpaio, the former sheriff of Arizona's Maricopa County, was convicted of criminal contempt of court for ignoring the federal judge's order that he follow the U.S. Constitution in doing his job," Noah Feldman, a professor at Harvard Law School, wrote in Bloomberg this week. "For Trump to pardon him would be an assault on the federal judiciary, the Constitution and the rule of law itself."
Arpaio rose to national prominence largely due to his "Tent City," an outdoor jail where prisoners — mostly immigrants — were kept outside in the harsh Maricopa County heat and subject to cruel, inhumane conditions.
He once likened the outdoor prison, where he humiliated inmates by forcing them to wear pink underwear, to a "concentration camp." For civil rights leaders, the pardon was an endorsement of racism. The move also spurred scorn from figures across the political spectrum, including Sen. John McCain (R-Ariz.), one of the senators from Arpaio's home state.
"Mr. Arpaio was found guilty of criminal contempt for continuing to illegally profile Latinos living in Arizona based on their perceived immigration status in violation of a judge's orders," McCain said in a statement Friday. "The president has the authority to make this pardon, but doing so at this time undermines his claim for the respect of rule of law as Mr. Arpaio has shown no remorse for his actions."
The pardon was also criticized by Phoenix Mayor Greg Stanton, a Democrat, who called the move a "slap in the face to the people of Maricopa County."
"Joe Arpaio illegally targeted and terrorized Latino families," Stanton said in a tweet. "Our community voted him out of power. Donald Trump can't change that."
What Trump did in pardoning Arpaio — who was unseated by Democrat Paul Penzone in 2016 — was unusual, too, in its quickness. Convicts typically do not even file a petition for pardon until at least five years after their imprisonment or guilty verdict. Arpaio hadn't even been sentenced.
But while a president's pardoning power is broad, it is not necessarily unchecked, according to Martin Redish, a constitutional law professor at Northwestern University — by impeachment of the president, Redish wrote Thursday, or possibly through a challenge in court.
Contempt convictions, Redish argued in the New York Times, are necessary to prevent violations of constitutional rights. If the president can issue pardons to those who could potentially be held in contempt, the possibility would exist for the president to jettison constitutional checks on his power.
"There's no Supreme Court decision, at least that I know of, that deals specifically with the extent to which the president may employ his pardon power in this way," Redish wrote. "But if the president can immunize his agents in this manner, the courts will effectively lose any meaningful authority to protect constitutional rights against invasion by the executive branch."