Thousands in San Francisco shut down yet another far-right rally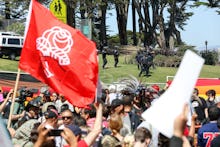 SAN FRANCISCO — Since the "Unite the Right" rally in Charlottesville, Virginia, follow-up rallies across the nation have been anxiously scrutinized as potential repeats of the deadly violence in Virginia.
So far, every attempt at holding a right-wing rally is failing.
In San Francisco on Friday, thousands of anti-racist protesters blocked streets and intersections to protest a far-right rally whose organizers never showed up. Initially planned by Joey Gibson, the founder of a group called "Patriot Prayer," the San Francisco event became the second such rally in the past week — the first was in Boston — to be totally drowned out anti-racist protesters.
Throughout the day, searching for the far-right rally was a wild goose chase through the city of San Francisco. The day before the rally, seeing thousands of protesters organizing against them, Patriot Prayer withdrew its permit and announced a press conference instead at Alamo Square Park.
By morning, police closed off the park entirely, and anti-racist protesters showed up in the thousands only to find that Gibson moved his press conference again, without announcing where it would be moved to.
As the protesters improvised a march toward the Mission neighborhood of San Francisco, Gibson broadcast a Q&A on Facebook Live from a dark room in the city, sitting beside far-right celebrity brawler Kyle "Based Stickman" Chapman and blaming the rally's cancellation on an alleged conspiracy between the National Parks Service, San Francisco Mayor Ed Lee and House Minority Leader Nancy Pelosi (D-Calif.) for the reason he had to cancel his rally.
"What you're seeing is a perfect example of the systematic oppression of right-wing thought and ideology," Chapman said on Facebook Live.
But the weekend isn't over yet for local protesters. Another rally is planned for a few miles away in Berkeley, where far right demonstrators had a blowout fight with anti-fascists in the streets in April (it's also unclear whether this rally will happen either).
Gibson announced Saturday night that he plans to head to Berkeley first thing in the morning, but Based Stickman can't come with him — he's out on $135,000 bail for a charge of felony possession of a billy club, and has been banned from attending all such rallies.
Barricades are already up in the streets of Berkeley, and businesses boarded up their windows in the night in anticipation of potential violence.