Trump allies praise Sheriff Arpaio's "long history of service." Here's what that actually entailed.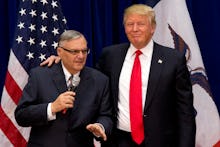 Allies of President Donald Trump offered defenses of his decision to pardon Arizona Sheriff Joe Arpaio, clashing with those who have decried the pardon as Trump "[undermining] his claim for the respect of rule of law."
Arizona state Republican Sen. Steve Montenegro called out the "hypocrisy from the left" in his defense of Arpaio on Sunday on CNN's State of the Union, while homeland security adviser Tom Bossert pointed to Arpaio's "long history of service."
"I think there's a clemency argument that can be made for the long history of service, both in the United States military and in law enforcement, for the sheriff," Bossert said Sunday in an appearance on ABC's This Week. "I think the president's been ... pretty straightforward that that long history of service merits this clemency, and he's acted accordingly."
Arpaio's "long history of service" as the sheriff in Maricopa County, Arizona, however, wasn't as worthy of praise as Trump and his allies would like people to believe. Though Arpaio was ultimately charged for contempt of court after refusing to comply with a judge's order to stop detaining people on account of their immigration status, he racked up a long series of bad behaviors during his 24 years in office, according to the Phoenix New Times.
The New Times reported that Arpaio's law enforcement career included putting inmates into deplorable conditions, even going so far as to describe one jail as a "concentration camp." Inmates committed suicide at alarming rates, were badly injured, had calls for help ignored and were segregated by race as a publicity stunt, with Latino inmates forced into a "Tent City" surrounded by an electric fence. Pregnant inmates often lost their unborn children, the New Times reported in 2008, as Arpaio's facilities provided inadequate medical attention and prenatal care.
The county's law enforcement team under Arpaio's command also conducted botched raids, including one in 2004 in which a SWAT team set a house on fire and killed a dog over the suspected possession of weapons — only to discover a 26-year-old man whose only offense was a misdemeanor for failing to appear in court for traffic citations. The actions Arpaio's team didn't take, however, were similarly bad, as the county failed to investigate hundreds of sexual abuse charges.
Arpaio's mistreatment of inmates, along with his racial profiling of Latinos, came at a high cost to Arizona taxpayers. The New Times reported in 2015 that racial profiling had cost Maricopa County at least $44.5 million, in addition to millions of dollars paid in settlements to victims of the sheriff's jail staff.
The New Times has also reported on such other Arpaio offenses as him orchestrating false arrests against journalists from the newspaper, trying to destroy hard drives with evidence on them that he had to turn over in court and his relentless "birther" crusade against former President Barack Obama, which came at a cost of over $10,000 in taxpayer money.
Unsurprisingly, the New Times reported following Trump's pardon, those who live in Arpaio's former area of jurisdiction are less than thrilled about the sheriff's new fate.
"It's just unbelievable that the president can do that — just disregard community sentiment, community polling, the legal system," Petra Falcon, the executive director of the Latino advocacy group Promise Arizona, said about the pardon, the New Times reported. "Those individuals that actually felt his crime, the victims of his crime, are the people who have totally been disregarded."