'Hot Mic' podcast: Trump pardons Arpaio, another right-wing rally shut down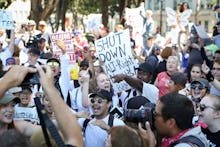 Listen and subscribe to the Hot Mic podcast from your mobile device:
Here are the important stories to know for Monday, August 28:
1. The first pardon of Trump's presidency went to former sheriff Joe Arpaio.
2. A far-right rally in San Francisco was shut down by thousands of anti-racist protesters.
Direct from Mic's newsroom, Hot Mic keeps listeners informed with a daily run-down of top stories, breaking news and analysis from our news team.