Teyana Taylor pays homage to Janet Jackson at the 2017 MTV VMAs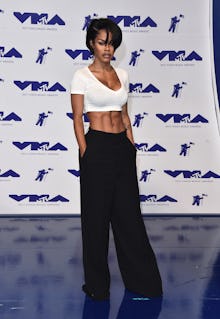 Sunday night's MTV Video Music Awards were a rough one. Host Katy Perry made a number of jokes about the current state of the world that just didn't seem to land. Ed Sheeran had the audacity to show up and perform. SZA didn't win best new artist. Beyoncé and Rihanna weren't even there.
And the fashion, well, that was a travesty on its own, not because people were dressed poorly really, but because, for a show that prides itself on wild red carpets, this one was dull. Lorde came in a (admittedly beautiful) standard ballgown and Katy Perry just kinda, eh, wore a dress. Even Nicki Minaj felt compelled to merely slip into some latex (though honestly she did look amazing). No one was shocking though, or all that cool and interesting.
That is, besides Teyana Taylor.
It may look like a very simple look, with slicked hair, a white crop top and a wide pair of black pants, but this outfit was a secret, very important ode to Janet Jackson, who wore an identical look to the 1995 VMAs.
While the back of Jackson's T-shirt in 1995 read "Pervert 2"...
Taylor's read "Underated 7."
And we're guessing that's because Taylor really is highly underrated. In a spooky twist, Taylor ended up winning the same award that Jackson won in 1995: best dance video. So this really was a case of stars aligning.
The sartorial ode also seemed to be perfectly placed at the VMAs, since other stars have been known to recall iconic fashion moments too. In 2014, Katy Perry showed up to the VMAs with Riff Raff dressed like Britney Spears and Justin Timberlake at the 2001 American Music Awards.
So, thank you, Teyana Taylor, for wearing an outfit truly worthy of the VMAs, and bringing along your adorable family, too.
We really aren't worthy.