Here is everyone who would be impacted if Trump stops protecting immigrant children, refugees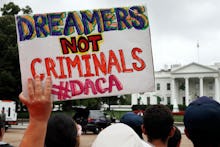 This is Mic's daily read on Donald Trump's America. Want to receive this as a daily email in your inbox? Subscribe here.
Every day, we bring you a dispatch on Trump's America. Today's focus: DACA.
Monday's dispatch: In immigration debate, not only Latinos face threat of deportation, struggle with the law
It has been a tough few days for immigrant rights advocates. President Donald Trump doubled down on building a wall with Mexico. He also pardoned Joe Arpaio, a former Arizona sheriff infamous for his hardline stances on immigration.
The most urgent fear among immigrants is that Trump will terminate the Deferred Action for Childhood Arrivals program, or DACA, the Barack Obama-era program that allows people who were brought into the United States as children to remain in the U.S.
Ending DACA would open up about 800,000 people in the U.S. to deportation. Most of those impacted would be Latinos. But there are other communities whose lives would be changed if DACA were repealed. One community that has become especially vocal: Asian-Americans.
About 130,000 Asian-Americans would lose protected immigration status if DACA is ended. "The majority of folks are Latino. But it's broader than that," said Becky Belcore, co-director of the National Korean-American Service and Education Consortium, or NAKASEC. "People don't know the diversity of the folks it will impact if DACA is taken away."
Korean-Americans, in particular, would be heavily impacted by DACA's termination. An influx of Koreans to the U.S. in the 1980s and '90s resulted in thousands of families overstaying their visas, including children who have grown up in the United States.
Ten attorneys general are pushing the federal government to decide by Sept. 5 whether to end DACA or face a lawsuit from conservative state politicians — one that may win out over the federal government in court. During the campaign, Trump called the program "illegal amnesty," but said after taking office that "Dreamers" could "rest easy." (Congress never passed the DREAM Act, which the nickname "Dreamers" refers to. In this quote, Trump was referring to people who benefit from DACA, which is a similar program.)
NAKASEC has led a 22-day, 24-hour vigil outside of the White House to push for DACA to remain. The action runs Aug. 15 to Sept. 5 and features daily speakers and protests. Beyond DACA, the vigil is also calling attention to the threats facing the Temporary Protected Status program.
Patrice Lawrence, policy and advocacy manager for the Undocublack Network, spoke at a Saturday evening protest during NAKASEC's vigil. She worries the '90s-era program, which started as a way for the U.S. to legally shelter people from unstable countries, could be phased out by Trump.
More than 350,000 people from 10 countries would lose protection if the program ends. A majority of those people are from majority-black countries, Lawrence said.
There is no pathway to citizenship from DACA or TPS. They must be renewed every couple years. Numerous progressive groups have organized around preserving DACA, including Indivisible, which has used Trump's threat to end DACA to organize minority and undocumented communities.
Greisa Martinez came to the U.S. when she was 7 and has lived in the U.S. for 21 years.
"The ultimate culture that will be disrupted if DACA and TPS are taken away is the family culture," said Martinez, director of advocacy and policy at United We Dream and a DACA recipient. "That's not only bad for DACA and TPS recipients, but for our democracy as a whole."
Today's question: Some immigration advocates say ending DACA and TPS would be a "white supremacist" move. Do you agree? Email trumpsamerica@mic.com with your thoughts.
Monday in Trump's America:
The president tweeted numerous times since Friday about Hurricane Harvey, and was praised by officials in Texas for his responsiveness to the storm, which has dumped feet of rain on southeast Texas and put much of Houston underwater. He plans to visit Texas on Tuesday.
In advance of the storm, immigration officials did not close checkpoints into the U.S. from the border. The ACLU worried undocumented immigrants stayed put instead of fleeing the storm over a fear of being detained.
More than 7,000 people peacefully protested against far-right activists and Trump supporters in Berkeley, California. Five people were attacked and 13 arrested as a result of violence driven by black-clad anarchists and anti-fascists.
The March to Confront White Supremacy kicks off on Monday. Marchers will walk from Charlottesville, Virginia, to Washington, D.C., over the next 10 days. The Women's March, Working Families Party, United We Dream and other activist organizations are involved.
Secretary of State Rex Tillerson said Sunday, "We're going to continue our peaceful pressure campaign" after North Korea launched another missile test on Friday. He also said the president "speaks for himself" on the topic of white supremacy. That comes after reports surfaced that Trump is not happy with Tillerson.
ICYMI: As Harvey was bearing down on Texas, Trump pardoned notorious former Maricopa County Sheriff Joe Arpaio. The White House forced out Sebastian Gorka, an outspoken, anti-immigrant former adviser to Trump.
From the Washington Post: Trump's company was trying to build a Trump Tower in Moscow while he was running for president.
Today's MicBite:
The alt-right has found seemingly innocent ways to spread their message online. Mic's Jack Smith IV explains.
Aug. 28, 2017, 12:17 p.m.: This story has been updated.