ACLU sues Trump over transgender military ban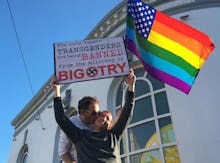 The American Civil Liberties Union announced Monday that it is suing President Donald Trump over his decision to ban transgender people from serving in the military, saying the ban violates transgender Americans' constitutional right to "equal protection and substantive due process."
The ACLU added that the ban "discriminates based on sex and transgender status" and that it's "based on uninformed speculation, myths and stereotypes, moral disapproval and a bare desire to harm this already vulnerable group."
In a statement, Josh Block, senior staff attorney with the ACLU's LGBT and HIV Project, went on:
Each and every claim made by President Trump to justify this ban can be easily debunked by the conclusions drawn from the Department of Defense's own review process. Allowing men and women who are transgender to serve openly and providing them with necessary health care does nothing to harm military readiness or unit cohesion.
The ACLU filed its lawsuit on behalf of five transgender service members currently serving in the military: Petty Officer 1st Class Brock Stone, Senior Airman John Doe, Airman 1st Class Seven Ero George, Petty Officer 1st Class Teagan Gilbert and Tech. Sgt. Tommie Parker.
According to the ACLU, Stone has served in the Navy for nine years, which included a nine-month deployment to Afghanistan.
"He has received extensive and costly training and is skilled in his field," the ACLU said in a statement of Stone. "He has devoted and risked his life for the United States and is seeking nothing more than the ability to continue to do so on the same terms as his fellow officers."
Trump, who announced the details of the ban Friday night as Hurricane Harvey was making landfall in Texas, said there haven't been enough studies to determine whether trans military personnel would have negative impacts.
"In my judgment, the previous administration failed to identify a significant basis to conclude that terminating the department's long-standing policy and practice would not hinder military effectiveness and lethality, disrupt unit cohesion or tax military resources, and there remain meaningful concerns that further study is needed to ensure that continued implementation of last year's policy change would not have those negative effects," Trump wrote in a memorandum that made the ban official.
Aside from banning transgender service members from enlisting, he also banned the Department of Defense from spending money on transgender service members' medical treatment by March 23.
It is still unclear whether current transgender service members will be able to continue to serve.
"As part of the implementation plan, the secretary of defense, in consultation with the secretary of homeland security, shall determine how to address transgender individuals currently serving in the United States military," Trump wrote in the memorandum. "Until the secretary has made that determination, no action may be taken against such individuals under the policy set forth in section 1(b) of this memorandum."