During an antifa brawl, one reporter put his body on the line to stop a beat down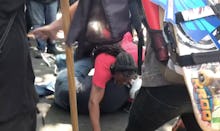 BERKELEY, Calif. — In Berkeley on Sunday, thousands of anti-racists protesters rejoiced in the sun after seizing Martin Luther King Jr. Civic Center Park from a far-right rally, waving flags and draping banners from nearby windows that read, "Berkeley stands united against hate."
But down a side street close to the rally, out of the sun and away from riot police, antifascists were fighting with Trump supporters and "anti-Marxist" demonstrators, violently driving them out of the area.
That's when Al Letson stepped in. Letson, host of the investigative news podcast Reveal from the Center for Investigative Reporting, saw an antifascist swing a flagpole down on someone lying prone. A man was on his back — there were kicks and punches from the surrounding protesters, with few police around and dozens of antifa approaching fast.
So Letson rushed into the fight and threw himself down on top of the attack victim. Letson took a couple of hits himself, but could tell that once he intervened, the aggressors started pulling their punches.
"It just happened so quickly that I just wasn't thinking," Letson told Mic on Monday.
In the seconds following, the conflict died down, and the crowd scattered as other fights broke out nearby and police tossed smoke grenades to disperse the antifascists and reporters in the area.
The small handful of brawls between antifascists and "anti-Marxist" demonstrators in Berkeley drew most of the day's attention, but apart from the scuffles, the Berkeley counterprotest was attended by thousands of peaceful anti-racist demonstrators.
"That's something I want to stress," Letson said. "There were a few little incidences, but on the whole, there wasn't chaos in the streets."
Letson still doesn't know who it was he defended, although someone from far-right indie news source Patriot Warrior Media claims via Twitter that he's the one who was being attacked in the video. But Letson isn't interested in a heartwarming get-together or reunion.
"I just didn't want to see this guy die," Letson said.