While Trump was tweeting about building a border wall, Mexico was offering aid to Harvey victims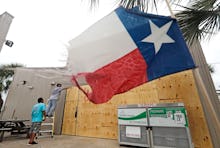 As gale-force winds and torrential rains pummeled Houston on Sunday in the wake of Hurricane Harvey, President Donald Trump took to Twitter to double down on a first-term agenda unrelated to the plight of Texas.
"With Mexico being one of the highest crime nations in the world, we must have THE WALL," he tweeted, in between wide-eyed dispatches about the 'HISTORIC rainfall' happening in Houston. "Mexico will pay for it through reimbursement/other."
But while the president was busy ratcheting up tensions with America's neighbor to the south, Mexico was offering aid to the victims of the deadly hurricane, which has claimed five lives and necessitated at least 2,000 emergency rescues thus far.
According to the Dallas News, Mexican Secretary of Foreign Affairs Luis Videgaray and Texas Gov. Greg Abbott spoke by phone on Sunday night to discuss a strategy for dealing with the disaster.
Carlos Gonzalez Gutierrez, the Mexican consul general in Austin, also confirmed that the country was as committed as ever to helping Texas, even in spite of Trump's inflammatory rhetoric.
"As we have done in the past, Mexico stands with Texas in this difficult moment," Gonzalez said, according to the News.
It's not the first time Mexico has stepped up to help the U.S. in the wake of a natural disaster. After Hurricane Katrina wreaked havoc on the Gulf in 2005, former Mexican President Vicente Fox approved a massive shipment of food, water and medicine, which was delivered by way of a naval vessel.
In statement emailed to Mic, the office of the Mexican Consulate General in New York responded to Trump's comments, reaffirming that the Mexican government "will not pay, under any circumstances, for a wall or physical barrier built on U.S. territory along the Mexican border," referring to the decision as a matter of "national sovereignty and dignity."
The statement also made clear that Mexico has no interest in renegotiating NAFTA — the trade deal that Trump called one of the worst "ever made" in a separate tweet on Sunday.
Instead, the country maintained that it stands in "full solidarity with the people and government of the United States" in the wake of Harvey's devastation — "as good neighbors should always do in trying times."