Nearly 3 dozen have abandoned White House roles over Trump's Charlottesville response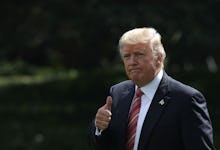 At least 35 people in government jobs or advisory roles have resigned from their positions since President Donald Trump blamed "both sides" for the violence at a white supremacist rally in Charlottesville, Virginia, that left one counterprotester dead and others injured.
On Aug. 24, eight of the 28 members on the National Infrastructure Advisory Council — which provides the president with "advice on the security of the critical infrastructure sectors and their information systems" — resigned in protest from their roles.
"Your actions have threatened the security of the homeland I took an oath to protect," the members wrote in a resignation letter first published by NextGov. "These actions include your remarks given at a press conference on infrastructure reform on Aug. 15, 2017. When asked about the horrific violence in Charlottesville, you failed to denounce the intolerance and violence of hate groups, instead offering false equivalences and attacking the motives of the CEOs who had resigned from their advisory roles in protest."
Those eight NIAC members joined dozens of others who had already resigned over Charlottesville, including Daniel M. Kammen, who resigned Wednesday from his role as science envoy at the State Department.
Sixteen members of the White House Committee on Arts and Humanities resigned Aug. 18 over Trump's Charlottesville comments, writing in a resignation letter that the president's "false equivalence ... cannot stand."
Trump was also forced to disband two other councils — the Strategy and Policy Forum and the Manufacturing Council — after at least 10 members, including some of the country's top CEOs, publicly announced their resignations.
The first, Ken Frazier — the African-American CEO of Merck — drew the ire of Trump himself after saying he felt "a responsibility to take a stand against intolerance and extremism."
Trump responded with an angry tweet that claimed the pharmaceutical giant had "ripoff drug prices."
Other CEOs who resigned from those councils include Under Armour CEO Kevin Plank, Intel CEO Brian Krzanich, 3M CEO Inge Thulin and Campbell CEO Denise Morrison.
No members of Trump's Cabinet have resigned; however, Gary Cohn, director of the White House Economic Council, reportedly drafted a resignation letter over Trump's response before changing his mind and choosing to stay in the role.
Meanwhile, Secretary of State Rex Tillerson has sought to distance himself from Trump's controversial remarks: In an appearance on Fox News Sunday, Tillerson told host Chris Wallace that Trump "speaks for himself" when asked if the president's Charlottesville response reflected American values.