Afropunk 2017: From women's braids to men's natural hair, a celebration of black beauty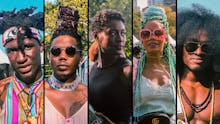 This weekend at Afropunk 2017 in Brooklyn, New York, thousands of people gathered together to celebrate and appreciate black culture and beauty. Artists like Solange, SZA, Sampha and Willow Smith performed, and a bevy of black-owned businesses set up shop.
Of course, the people who attended dressed the part too, collectively showcasing a diverse display of beauty. There were people who wore flowers and butterflies in their dreadlocks, people who chose to wear traditional African attire and people who chose to wear their hair natural.
To honor this event, Mic photographed a number of attendees we thought looked particularly extraordinary, and exhibited a sliver of what Afropunk is really about.