Anheuser-Busch and MillerCoors donate more than 200,000 cans of water for Hurricane Harvey relief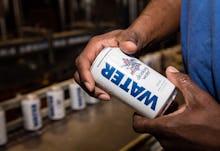 Two of the country's biggest beer companies have stepped in to provide emergency water cans to victims of Hurricane Harvey, which created a crisis in Texas on Friday night and has since been downgraded to a tropical storm. Anheuser-Busch (which owns Budweiser) and MillerCoors (which brews Miller Lite and Blue Moon) have together donated more than 200,000 cans of water to aid relief, according to spokespeople for the companies.
Cartersville Brewery, a brewery and packing facility in Cartersville, Georgia, that's owned by Anheuser-Busch, occasionally produces drinking water instead of beer.
"It's averaged about two to three times a year that we change over one of our canning lines [to can water instead of beer,]" Sarah Schilling, head brewmaster for Cartersville Brewing, said in a phone interview.
This act of assistance requires planning — it takes up to eight hours to clean the canning line and several days of preparation to ensure the drinking water is in the right tanks. "We wouldn't be able to respond at a moment's notice ," Schilling said.
On Monday morning, 50,000 cans of water were delivered to Baton Rouge, Louisiana, the AB spokesperson added. Baton Rouge expects to get two to six inches of rain, with potential flash flooding. Another 100,000 cans will be delivered to Arlington, Texas, later this week.
Meanwhile, MillerCoors has also been canning water for use by the Red Cross during emergencies.
"We've been making arrangements to help provide relief since late last week, including shipping 50,000 cans of drinking water from our Shenandoah brewery to our craft partner, Revolver, where trucks in Granbury, Texas, are ready mobilize and deliver to Red Cross shelters in communities hit hard by Hurricane Harvey," Marty Maloney, manager of media relations for MillerCoors, said in an email. The company will also be donating a minimum of $25,000 to the Red Cross and will donate more if employee donations collectively exceed $25,000.
Maloney noted that the drinking water was originally canned at the company's Trenton, Ohio, brewery facility, which previously produced 50,000 cans of drinking water for flood victims in southwestern Wisconsin and northeastern Illinois on July 17.
MillerCoors began canning drinking water this summer, but Anheuser-Busch has a long history of donating water for humanitarian efforts. AB has produced 76 million cans of water for disaster relief since 1988, a spokesperson confirmed. Cans have gone to victims affected by Hurricane Sandy, Hurricane Matthew and the 2016 Louisiana floods.
Though critics may take these beer conglomerates to task for buying up independent craft brewers and "co-opting craft beer," it's clear that Big Beer's efficient and large production facilities can be a force for massive good.
AB has a brewery in Houston, Schilling noted. "When it hits close to home and supporting facilities, it means something special to be able to help out," she said.