3 key takeaways from the newly released Trump-Russia emails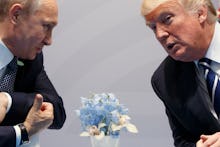 Emails released on Monday from top-level staffers in President Donald Trump's business and political orbit reignited the fervor around the investigation into the Trump campaign's potential Russian ties.
According to two separate reports from the New York Times and the Washington Post, the emails show that the Trump organization was seeking to build a Trump Tower in Moscow in the fall of 2015, months after Trump announced his presidential bid.
"Our boy can become president of the U.S.A. and we can engineer it," Felix Sater, a Trump business associate, wrote in an email to Trump lawyer and spokesman Michael Cohen of the Trump Tower project, according to the New York Times. "I will get all of Putin's team to buy in on this, I will manage this process."
The reports come just as the Trump White House embarks on a busy September, in which it must ensure that the government remains open and that the country can pay its bills by lifting the debt ceiling — all while delivering policy wins that have thus far been elusive.
Here are three key takeaways from the latest Russia news.
1. Trump was, indeed, soliciting business in Russia during the presidential campaign.
Trump has insisted multiple times that he was not doing any deals with Russia.
"Russia has never tried to use leverage over me. I HAVE NOTHING TO DO WITH RUSSIA — NO DEALS, NO LOANS, NO NOTHING!" Trump tweeted in January.
"I don't know Putin, have no deals in Russia, and the haters are going crazy," he again tweeted in February.
The newly released emails paint a different picture. According to the Washington Post, Trump signed a letter of intent with a Russian developer for the Trump Tower Moscow project on Oct. 28, 2015.
Just a few weeks later, Trump began praising Russian President Vladimir Putin, saying in December 2015 that Putin is "so highly respected within his own country and beyond."
2. Trump knew about the business deal, even as he denied having any such ties to Russia.
While Trump repeatedly denied that he was doing business deals in Russia, Bloomberg News reported that Trump knew about the Trump Tower Moscow project that was being discussed in the fall of 2015.
Cohen told congressional investigators that he discussed the project three times with Trump, meaning Trump knew that there had been an attempt to do a deal in the country.
3. There's email evidence that the Trump organization specifically sought Putin's help.
While Trump claims to have had no ties to Russia or Putin, the Washington Post reported that Cohen went so far as emailing Putin's top press secretary seeking help with the Trump Tower Moscow project.
"Over the past few months I have been working with a company based in Russia regarding the development of a Trump Tower - Moscow project in Moscow City," Cohen reportedly wrote in an email to Kremlin spokesman Dmitry Peskov in January 2016. "Without getting into lengthy specifics. the communication between our two sides has stalled."
Cohen continued, "As this project is too important, I am hereby requesting your assistance. I respectfully request someone, preferably you, contact me so that I might discuss the specifics as well as arranging meetings with the appropriate individuals."