Munroe Bergdorf makes history as the first out trans woman to land her own L'Oréal UK campaign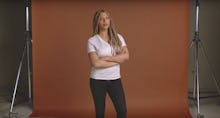 Little by little, we're getting closer to a time when not all of our beauty campaigns star only white, conventionally thin, cis and female spokespeople.
That was made evident on Sunday, when DJ, activist and model Munroe Bergdorf announced that she's one of the faces of L'Oréal Paris U.K.'s latest True Match campaign, making her the first out transgender woman to ever land her own campaign with L'Oréal in the U.K.
In her first video for the company, Bergdorf, who's worked with companies like Uniqlo before, said that it was the lack of representation for women like her, and appreciation for women like her, that got her motivated enough to put herself in the public eye.
"I definitely set out to empower girls like me," Bergdorf said. "I think that our history definitely wasn't being told. Not many people know that it was trans women of color that fought for gay rights, that started the Stonewall Riots, which eventually led to the gay rights movement."
She then talked about her own relationship with makeup.
"Makeup's definitely been a way of me reflecting how I feel inside and it's a direct expression of who I am," she said. "Going into a store and finding a makeup that helps you achieve those small victories, I think that that's amazing."
In being a part of this campaign, Bergdorf joins trans models like Hari Nef, who's worked with L'Oréal in the U.S., and Andreja Pejic, who worked for Make Up For Ever.
In an interview with Mic, Bergdorf revealed that this opportunity kind of came out of the blue for her, with L'Oréal sending her an email one day while she was out to lunch with her mom.
"I can be a bit ditsy at times and the full weight if it didn't really dawn on me until after we had shot the campaign in Paris and I was on the Eurostar [train] on the way home," Bergdorf said. "It was an incredible day and I was sharing the he studio with some top models who also work with L'Oréal. But yes, once I realized that I was the first trans woman to land a U.K. campaign, I felt honored to have been asked and proud that it's also part of the True Match campaign which stands for diversity, a subject that is very close to my heart."
Speaking of diversity, Bergdorf is definitely encouraged by the boost in brands taking note of women who have previously never been seen before in any kind of campaign.
"It's so great to see that beauty brands are really starting to wake up to the fact that women want to see themselves in any aspirational imagery," Bergdorf said. "Whether that's film or music videos or makeup advertising. Women want to feel represented, not to feel like they have to chase after an unattainable standard of beauty. I'm so glad to be part of that changing narrative."
As far as what's next for her, Bergdorf isn't totally sure, but she does know that she's gonna keep on fighting for women like her.
"Honestly I don't know what the future entails, I just plan on being myself for the whole ride, providing visibility for girls like me and being a voice and ally for anyone who feels like they are the underdog," Bergdorf said. "Our experiences and feelings are universal, the more we talk about them, the more change we will see."
You can see Bergdorf's entire video for L'Oréal Paris U.K. below.
August 30, 2017, 8:26 a.m.: This post has been updated.