How hotels play an integral role in natural disaster relief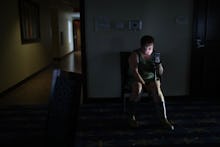 Cities transform during natural disasters. When the infrastructure of daily life comes apart, ordinary citizens jump into action. Hotels, with their power generators, plentiful beds, kitchens and large conference rooms, often morph into valuable community centers.
Take a look at Houston, where Hurricane Harvey was downgraded to a tropical storm on Monday. A pregnant woman began contractions in a conference room and NPR journalists broadcast a live radio show in a hotel room. During Harvey, plenty of other unconventional activities have occurred in hotels, which were more than willing to provide resources.
"Hotels with their own power supply often become a beacon of light during storms or other events which affect local power," Siobhan O'Neill, communications manager for the International Tourism Partnership, said in an email.
For people forced to evacuate their homes during Harvey, many hotels are offering discounted rates, and Greg Abbott, the governor of Texas, has suspended state and local occupancy taxes in order to keep costs down. (The state's hotel occupancy tax is typically 6%.)
"We're offering a $109 rate. These are standard rooms, they range from $300 to $600," Naomi Alcala, a reservations agent for La Cantera Resort in San Antonio, said in a phone interview, noting that the property, which is part of the Destination Hotels group, has waived cancellation fees. "Since Friday, we've had a few hundred [guests] under that hurricane rate." Alcala noted that many people have left since then, potentially seeking shelter with families in other cities, going to hotels who let domestic pets stay or staying at hotels offering cheaper rates.
Even Airbnb has plans in place to help locals when disaster strikes. The company contacts hosts in affected areas to ask if they have room for displaced people, and waives services fees during emergencies.
More than 400 homes have been available through the urgent accommodations program so far, a spokesperson confirmed in an email. Areas with free listings include Austin, Dallas, the Woodlands, College Station, Waco and San Antonio. "The availability of $0 listings is now extended through Sept. 25," the spokesperson noted.
Hotels have provided relief to communities in crisis across the world. When Superstorm Sandy struck New York City in 2012, hotels in all of the boroughs took in stranded New Yorkers and first responders, Condé Nast Traveler reported. Some properties, like the Soho Grand, invited neighbors to use amenities like electricity and free Wi-Fi.
Toiletries are another essential that hotels have in spades. "Flood waters can be highly toxic and rapidly spread disease and people escaping the waters need soap and shampoo — something that hotels have plenty of," O'Neill said.
Hotels can be generous in other ways, too. "A Radisson Blu hotel in Sierra Leone, with its hotel group Carlson Rezidor, recently donated many thousands of dollars of rice, cooking oil, blankets and mattresses to support those affected by the tragic flood and mudslide in Sierra Leone," O'Neill said.
During Hurricane Katrina, which devastated Louisiana in 2005, guests slept in the Sheraton New Orleans' ballroom because the room had no windows, the New York Times reported. Guests were bussed to another Sheraton while it was safe, and the hotel later housed first responders including doctors, federal marshals and rescue workers.
Creativity fueled survival. Toilets were filled with water from the swimming pool at one of the Decatur Hotels in New Orleans, the New York Times noted. Guests subsisted on Power Bars and peanut butter a manager purchased at a local Walmart.
The hotels that are so integral to communities during disasters may have an uphill battle once the storm leaves town. Houston hotels have had low occupancy and low room rates for three years, Bloomberg reported, and the wake of the hurricane likely won't help matters.
But there might be reason to be optimistic.
Hurricane Katrina "brought the attention of the world to New Orleans," Michael Valentino, a New Orleans hospitality veteran, told Adweek. "First, it was out of empathy, then out of curiosity and then out of discovery. The world basically said, 'We have to visit there someday.'"
August 30, 2017, 1:45 p.m.: This story has been updated.