At news conference, Trump says he pardoned Joe Arpaio during the hurricane for "ratings"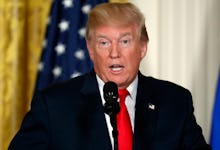 President Donald Trump on Monday defended his decision to pardon former Maricopa County Sheriff Joe Arpaio in the midst of a major hurricane, saying he thought more people would hear about the pardon because of the timing.
"I assumed the ratings would be far higher than they would be normally," Trump said of his decision to announce the pardon late Friday night, as Hurricane Harvey was making landfall on the Texas coast. The president was holding a joint press conference with Finnish president Sauli Niinistö.
Trump also defended his pardon of Arpaio — who was convicted of criminal contempt after refusing to follow a court order to stop racially profiling Latinos.
"Sheriff Joe was very unfairly treated by the Obama administration," Trump said, adding that Arpaio is loved in Arizona and only lost re-election by a small amount in 2016. (Arpaio lost his re-election by nearly 13 points.)
The pardon has been criticized by politicians on both sides of the aisle, including House Speaker Paul Ryan.
"Mr. Arpaio was found guilty of criminal contempt for continuing to illegally profile Latinos living in Arizona based on their perceived immigration status in violation of a judge's orders," Sen. John McCain (R-Ariz.) said in a statement, adding that the pardon "undermines [Trump's] claim for the respect of rule of law as Mr. Arpaio has shown no remorse for his actions."