'Hot Mic' podcast: Trump loses more advisers, ACLU sues Trump over transgender ban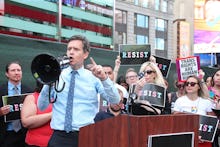 Listen and subscribe to the Hot Mic podcast from your mobile device:
Here are the important stories to know for Tuesday, August 29:
1. At least 35 people have left their government jobs or advisory roles since President Trump's response to Charlottesville.
2. The ACLU is suing Trump over his decision to ban transgender individuals from serving in the military.
Direct from Mic's newsroom, Hot Mic keeps listeners informed with a daily run-down of top stories, breaking news and analysis from our news team.