There's now more diversity in ad campaigns than the runways. Here's why that matters.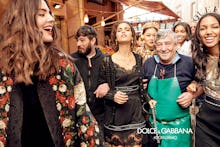 Season after season, runways across the world have increasingly embraced racial diversity, casting models of color more and more. Now, according to the latest report from the Fashion Spot, ad campaigns finally have gotten the hint too.
In fact, they're now outpacing the runways.
For the first time since Spring 2015, when the Fashion Spot first started calculating diversity numbers, there was more racial diversity in ad campaigns this season than on the most recent fashion week runways, which were incredibly diverse in their own right.
After looking through 187 print ad campaigns, and 457 model appearances, the site found that while 69.6% of model castings were white, 30.4% were nonwhite, which is a record. That's a significant bump up from the spring 2017 ad campaigns, and the first time that number has leapt over the 30% mark.
Now compare that 30.4% number to last fashion week, when 27.9% of models cast in shows were nonwhite.
"The Fall 2017 runway season was the most diverse season we've examined, so the fact that the Fall 2017 ad campaigns are even more diverse is good news," Jennifer Davidson, the editor-in-chief of the Fashion Spot, said in an email. "In terms of racial diversity, we have seen steady progress on both the runways and ad campaigns season over season and, for the first time, racial diversity was over 30%. This certainly seems to indicate that fashion is becoming more inclusive and that designers are making diversity a priority."
As far as who had the most racially diverse campaigns, Saint Laurent, Dolce & Gabbana, Coach, Gap and Nordstrom all made significant progress in casting more models of color for their ads this season.
As Edward Enninful, who was responsible for that uber-inclusive Gap campaign, told Mic: "They are the future. Things might be bad, but we can make it better if we're all together."
It'd be a fair argument to make that increased diversity in ad campaigns is more impactful than on the runway too, because far more people see ad campaigns — whether they're on billboards or in stores or in magazines — than pictures from a fashion show. So this is definitely something to cheer for.
Now what about the other kinds of model diversity out there? Well, that's where things get a little disconcerting.
Plus-size models made no progress in terms of more visibility in the Fall 2017 campaign season, with plus-size models accounting for 10 castings. For Spring 2017 campaigns, there were 10 cast too, and that was a dip from Fall 2016's 14.
The sliver of hope there is that for the first time on record, a majority of the models cast weren't used by strictly plus-size brands, with Dolce & Gabbana and Vivienne Westwood casting plus models in their campaigns.
As expected though, Ashley Graham got the most castings, nabbing three out of the 10.
Now as far as transgender models, there's been progress there too, with trans models accounting for six castings in the campaigns. Last season, it was just five, and the season before that, zero.
Campaigns from Helmut Lang, Sisley and Philipp Plein all helped boost that number.
"The diversity conversation is everywhere and that helps. It's no longer just a social media grassroots movement," Davidson said. "Mainstream media and corporate America are finally catching on. The fashion industry is figuring out how to balance fantasy with reality and realizing that it's no longer smart to ignore the customers who ultimately buy the product. Little by little, a shift is happening."
What does this boost in racial diversity in ad campaigns really mean? Well, it means that brands have finally realized that people of color absolutely deserve a spot in their campaigns. But if that's the logic, what does that say for the plus-size model movement, which is still struggling to make progress?