Trump has pushed for cuts to climate change science — research that could explain storms like Harvey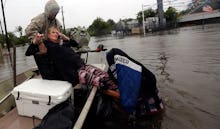 This is Mic's daily read on Donald Trump's America. Want to receive this as a daily email in your inbox? Subscribe here.
Every day, we bring you a dispatch on Trump's America. Today's focus: Science vs. politics.
Tuesday's dispatch: Federal research that can help explain Hurricane Harvey faces budget cuts
It's too soon to know whether climate change played a direct role in making Hurricane Harvey one of the worst storms to hit the continental United States in decades.
But climate scientists say they see a probable link between stronger hurricanes and man-made global warming, even if their data can't quite show it yet. That's why they say it's imperative the government continue funding research on how climate change impacts weather.
But some of those programs are on the chopping block in budget proposals from both the White House and House Republicans.
"It doesn't matter if you believe, or not, humans are the cause of climate change ... what [the Trump administration] cannot really deny is the data," Astrid Caldas, the senior climate scientist with the Union of Concerned Scientists, said in an interview. "All the things these agencies measure are behind all the progress we have made in terms of preparedness for these extreme events."
Last year, the National Academy of Sciences said there is a clear link between climate change and extreme temperature events like heat waves. But a lack of historical data and resources to track weather means it's not yet clear individual weather events, like hurricanes, are the direct result of a warming planet.
A 2014 climate report with input from 13 U.S. government agencies found "hurricane intensity and rainfall are projected to increase as the climate warms."
Tom Knutson, the National Oceanic and Atmospheric Administration's top climate change and hurricanes researcher, said climate change might already be driving a small increase in hurricane rainfall rates — with a 10% to 15% increase projected by the end of the 21st century.
Oceans have absorbed 93% of warming over the past four decades, and water surface temperature is a factor in hurricane generation. Higher temperatures mean more evaporation, creating a warmer, wetter atmosphere that can drive hurricanes.
"Our research is important, it's valuable and we're trying to understand how the climate system is being altered and what it means for all sorts of things," Knutson said. "We need to continue to observe [hurricanes]."
It's not clear Congress feels the same way.
The most recent House funding legislation would cut NOAA's climate research by 19%, a program focused on helping predict and prepare for climate change. It also cuts NASA's earth science program by 11%, or $217 million — research that involves climate change studies.
Those cuts include programs that would predict future weather patterns, algal blooms and measure carbon dioxide levels.
House Republicans did dull some of Trump's deepest proposed cuts, like an 11% cut to the National Science Foundation. The House will vote next week on sending its budget to the Senate. But Democrats still blast cuts to NOAA and NASA as irresponsible.
"It will only make us less able to understand factors leading to more frequent and severe storms, and handicap our researchers relative to those around the world," Matthew Dennis, spokesman for Democrats on the House Appropriations Committee, said in an interview.
Today's question: Should the United States continue to fund research to determine whether extreme weather, like hurricanes, and climate change are linked? Please email us with your thoughts at trumpsamerica@mic.com.
Tuesday in Trump's America:
President Donald Trump and first lady Melania Trump will visit Texas on Tuesday to tour damage inflicted by Harvey. Here are harrowing pictures of the flooding. And while Trump was tweeting about his wall over the weekend, Mexico was busy helping storm victims.
North Korea launched a missile capable of carrying a nuclear payload over Japan. The latest provocation drew an angry international response and a White House statement saying, "All options are on the table."
"I assumed the ratings would be far higher than they would be normally." Trump on why he pardoned former Maricopa County, Arizona, Sheriff Joe Arpaio as a hurricane approached Texas.
Since Trump's comments about Charlottesville, Virginia, nearly three dozen people have left White House roles.
A business associate of Trump said in 2015 he would help the now-president build a Trump Tower in Moscow, arguing it would help him get elected. And a longtime Trump attorney contacted Russian President Vladimir Putin's spokesman last year to push for jump-starting the stalled project.
The American Civil Liberties Union is suing Trump over the transgender military ban, as are transgender service members and those who want to join the military.
An appeals court appears set to exempt relatives from Trump's travel ban.
The Trump administration will give police departments surplus military-grade weaponry that was confiscated from departments by the Obama administration.
Today's MicBite:
A journalist put his life on the line to protect the victim of an antifascist attack. Watch the video below.