How 'NCIS: New Orleans' star Shalita Grant launched her career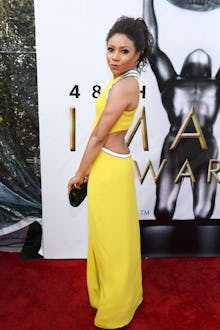 Shalita Grant, who stars on "NCIS: New Orleans," went straight from high school to the prestigious acting program at Juilliard to the New York stage. She went on to receive a nomination for a Tony Award at age 24, for her role in 'Vanya and Sonia and Masha and Spike' on Broadway — and then struggled to prove herself in Los Angeles. She spoke to Mic about what it was like going from a successful stage career in New York to trying to launch herself as an actor in Hollywood.
When I was nominated for a Tony, I remembered walking around the corner going into the backstage. Our theater was one of the theaters that shared the entryway; there are these dumpsters that line this side. I was walking in and I was like, "So, now what?" It was one of those moments where I realized you can fight for something, fight for something, fight for something, but to what ends? Once you get it, the question is and now what? What's the next mountain?
So, I moved out to Los Angeles with $10,000.
I was like, "This is all I need because I'm going to get me a job immediately." It took a year — which, when I tell this story to other actresses especially other actresses of color they're like, "That's so short." I'm like, "Really? OK. Well, that's me being impatient."
It was something like 54 to 56 or 57 different projects that I auditioned for. That's just projects, that's not times. It was just all those different projects that I auditioned for before I got my first job. That job wasn't even a life changer; I was a guest star. After that first job, I was like, "All of that, for this one job that didn't even change my life. I think I have to quit because this is crazy to me that I would do this again."
I ran out of money around June and was like, "All right. I have to find a job." I knew I couldn't be a waitress because people are horrible to waitresses. I knew if I was being actively rejected in my career, I didn't need my money job to be horrible. Everyone was like, "Everyone loves a bartender."
The problem was that I never bartended, but that didn't stop me. I went on YouTube and I taught myself how to bartend. Then, I got one of those bartending template resumes, and I filled it in with restaurants here in New York City that were closed so they couldn't check up on me and then voilà, three years' experience.
But I couldn't be a Tony-nominated bartender, so I went in and was like, "Yeah, I just moved from New York. I was a bikini bartender. I got no goals. All I want to do is serve liquor." I didn't want to hear, "You can't have this job because you're an actress and you're taking yourself too seriously. You're going to leave this job."
So I got a job at this little dive spot in Redondo Beach in California. It was horrible. I worked there for two weeks and they fired me. They were like, "You actually don't know what you're doing. You don't even know how to change a keg." I was like, "I skipped that video."
But then I thought, "I don't care. I'm just going to do it again." I went to Dave & Buster's, because it's a corporate job: They have to train you on their menu, on their bar.
It was horrible. I feel for the people that have to work there because you've got kids that are hopped up wanting to play games, then you've got the parents that come there to drink, then you've got the creepy old men that just show up to drink. (Why are you there? I don't really know, but I can guess.) The other bartenders would give me the guys they knew didn't tip. I would just serve and they wouldn't tip. I'd be like, "I did everything." They're like, "Yeah, that's why we gave you to them. We knew you would do that."
I quit that job when I got NCIS: New Orleans, so I was there for six months.
I'm very impatient. That's why I think things happened the way that they do. Not that I'm a bully or anything, but I'm aware that 10 out of 10 people die. There is this feeling of, "I have to get this done now because who knows? Seize the moment."