Who invited alt-right transphobe Milo Yiannopoulos to the VMAs?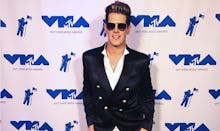 Progressive values are never in short supply during MTV's Video Music Awards, and the 2017 ceremony on Sunday night was no exception. So what was prominent alt-right mouthpiece Milo Yiannopoulos doing in attendance?
During the course of the night, there was Pink, recipient of this year's Michael Jackson Video Vanguard Award, arriving in a suit to match those worn by her daughter, Willow, and husband, Carey Hart, and preaching the power of androgyny; there were the six transgender service members who spoke out passionately against the president's signed memo banning trans men and women from the military; there were the coveted "Moonman" trophies, recently renamed "Moon People" in an effort to make the awards themselves more egalitarian.
But this year, tucked inside the audience largely unnoticed, was Yiannopoulos — a former Breitbart editor who has built a career slinging venom against the LGBTQ community, against Muslims, against women — apparently seated just a few feet away from Chance the Rapper.
Yiannopoulos's history of bigotry and provocation is long and documented. After President Donald Trump announced the ban on transgender service members in July, Yiannopoulos reportedly said that he was "delighted" to hear news of the decision.
"You don't help mentally ill trans people by sticking them on the front lines," he said at the time, according to the Washington Post. "You help them with therapy and drugs — though not, I have to stress, transition surgery. I only wish he'd gone further and banned women from combat units too, since the evidence clearly shows their presence is disastrous for both morale and performance. Baby steps?"
The dissonance of the ceremony's overt attempts to appeal to MTV's young, woke demographic and Yiannapoulos's presence was stark. At one point, in a video posted to his Instagram that appears to have been taken inside the auditorium, Yiannapoulos smiles and shakes his head as YG's "Fuck Donald Trump" blares through the loudspeakers.
Reached by email, an MTV spokesperson said of Yiannapoulos that the network "did not invite him," to the event, but said that the night itself had been about "unity, positivity and inclusion — squarely in line with our audience and MTV's DNA." 
"Anything other than that is only noise," the spokesperson added.
Asked over email whether or not he had received a personal invitation to the event, Yiannopoulos responded, "Fuck off."
Aug. 28, 2017, 9:00 p.m.: This story has been updated to include new comments by an MTV spokesperson regarding whether or not Yiannapoulos received an invitation to attend the 2017 VMAs ceremony from the network.