Tropical Storm Harvey: How to spot hoaxes and false information on social media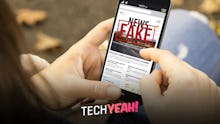 Did you see that viral image of a shark supposedly swimming through the streets in Houston during Tropical Storm Harvey?
The image is completely fake, but it was retweeted more than 65,000 times.
There are always fake videos, photos and information floating on the internet, and many people get tricked — especially during a disaster like Harvey, when real information is vital and potentially life-saving.
Don't fall for fake news. Here are some tips to determining if the information you're seeing online is real.
Do a reverse image search
It's actually really easy to see where an image came from, if you know how to do it. The service TinEye is helpful, but if you use Google Chrome as your browser, all you have to do is right-click an image to do a reverse image search. Just hit "Search Google for Image."
Then you'll be taken to a page that will guess where the image originated.
From there, you can click the links and images to see where the photo came from. In this case, I discovered that the image was from a Thanksgiving function in 2015.
If you don't use Chrome, you can also upload the image on Google Images. Just go to the site, click the little camera icon and upload an image to search for it.
Consider the source
A random person on Twitter is a lot more likely to perpetuate a hoax than a respected journalist or expert. Obviously, everyone makes mistakes — even Katie Couric shared this alligator image from April — but you're better off getting your information from someone with a good track record of telling the truth.
If you see something on Twitter, check out the source's other tweets and their bio. The tweet may have been ironic or purposefully misreported. Check out the source's credentials and see if you can corroborate the information elsewhere.
Do your research
If you Google "shark Houston," you'll find tons of news stories debunking that viral photo. The same goes for another viral image that went around on Monday: a photo of former President Barack Obama serving meals at a shelter in Houston. Just a simple search for key terms can help you decide if something is worth sharing. It only takes a minute, but it could save you a whole lot of stress.
The moral of the story is this: Always be skeptical.
Sign up for Tech Yeah! — your biweekly digest with a helpful and hilarious tech tip for upgrading your life. Yes, there's a hack for that.