On Melania Trump's hurricane stilettos, and what first ladies wear when visiting a disaster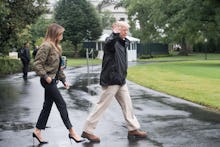 On Tuesday, Melania Trump came striding out of the White House in an army green bomber jacket, slim black tailored pants, her signature massive black aviator sunglasses and treacherously high heels.
On any other given day, this would not be news, since Trump wears high heels almost exclusively. But since Trump was on her way to Texas to survey the incomprehensible damage and flooding as a result of Hurricane Harvey with her husband, it was.
For visiting an area devastated by a natural disaster, which has left nine dead already, people were not super jazzed about Trump arriving there looking like she had just arrived at the Teen Choice Awards.
On Twitter, that was made evident.
People couldn't help but be completely perplexed. Out of practicality, if she did indeed want to visit the most devastated areas and relate to the people most in need, wouldn't she want to wear something else?
Even next to her husband, she seemed out of touch. He had dressed down noticeably, wearing more utilitarian shoes, khakis and a raincoat. That's the status quo for a president visiting a devastated area. Obama often wore lighter button-downs and dockers when visiting things like the destruction after tornadoes ripped through Alabama in 2011, and same goes for George W. Bush when he visited the Gulf Coast after Katrina.
But of course, this was all premature panic.
Once she touched down in Texas, Trump revealed that she had come with another pair of shoes, a much more appropriate pair of white Adidas sneakers. She also changed her outfit a bit, swapping her black shirt and bomber for a white button-down, with a collar she made sure to pop up.
Then she wore a hat, with "FLOTUS" emblazoned across the front, coordinating with her husband.
What this swirl of initial outrage shows is that dressing for a disaster when you are a first lady is a serious test of compassion. When visiting a devastated area, a first lady is supposed to be relatable and convey an aura that she is there to help — and can help — in any way she can. She's not bothered with precarious details like designer footwear, but is there to help heal.
This has been the protocol for a while. Think back to when Laura Bush visited New Orleans after Katrina. She wore a much plainer, simpler outfit. She wouldn't be hindered in any way by what she wore, precarious heels or otherwise.
She was modest and subdued.
Michelle Obama went the same route for visiting devastated areas. When she visited Haiti after the 2010 earthquake, she came in a button-down, jeans and sneakers, a la Trump.
In mournful times too, like after the Fort Hood shooting, she opted out of her stilettos.
It's just that in times likes these, when lives have been lost and people are left absolutely hopeless, wearing extremely high designer stilettos felt not only highly impractical, but inappropriate.
Texans are floating in refrigerators in the streets. Texans are jet skiing through neighborhoods. Texans are sitting in nursing homes, with water up to their stomachs. Texans are living on their roofs. So yes, it is understandable that that image of that woman, in those heels, trying to appear like she's on her way to help and heal did not sit well.
An outfit change became mandatory.
And an outfit change — a smart one, at that — happened.
Trump has a particular style, sure. She loves to wear heels. She loves expensive clothing. That's her choice, and there's really nothing wrong with that. Every woman is entitled to dress the way she wants.
But it remains very difficult to understand why Trump felt compelled to wear these heels just for her grand exit from the White House in the first place, knowing she'd be photographed and analyzed, because she is the first lady. For a five-minute walk to Marine One, was all this fuss really worth it?
For a member of a family that puts a huge amount of value on their appearances, maybe it was.