Uber says it won't track user locations — but Apple may be forcing the issue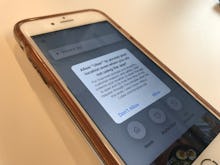 Uber's mobile app made a controversial change in November 2016 when it asked users for location data even when the app wasn't being used. Now the company is dialing it back — at a suspiciously convenient time.
The latest news out of the cab startup, according to Reuters, is that the company wants to stop tracking you all the time.
Currently, saying no to Uber's request to access your location greatly limits what the app lets you see and do. Saying yes to location tracking lets Uber see where you are whenever your smartphone is powered on, even if you aren't using the app. Most apps provide an in-between "while using" option, for when the app is on screen. While Uber can track anyone who accepts these terms whenever they want, the company says it only does so for five minutes after your ride.
Recently, it has been reported that Uber will once again offer an option in the middle: to only be able to see users' location while the app is open on their phone. Speaking with Joe Sullivan, Uber's chief security officer, Reuters article says Uber is pushing for better privacy. Though, as Apple's upcoming iOS 11 software update shows, the company simply won't be able to get away with it anymore.
Apple's new iPhone software prevents apps from always tracking users' location without offering a middle-ground "only while using the app" option. The two phones below (iOS 10 on the left, iOS 11 on the right) show how Apple's new software forces apps to offer a "while using the app [only]" option when giving up your location.
History has shown us that Apple releases new iPhone software every September, meaning if most iOS users update their phone (which most do) they would probably set location tracking to "while using" anyway.
Interestingly, Uber's privacy upgrade will come to iPhone towards the end of August, but not Android. Users of Google's phone software don't even receive a proper ETA from the company. To quote Reuters, "'The location-tracking changes will initially only be available to iPhone users, but Uber intends to bring parity to Android devices,' Sullivan said."
We've reached out to Uber and are awaiting comment. We'll update this post if we hear back.
In Uber's defense, the same article mentions that Uber says "it never actually began post-trip tracking for iPhone users and suspended it for Android users." With Uber able to track GPS-enabled users at any moment, however, we simply have to take their word for it. Things like God View, once available to both employees and drivers, don't inspire confidence.
At the very least, Uber's change of heart is good for every iPhone user — even those on 16GB phones that won't fit iOS 11. Let's hope Uber locates an update for Android phones sometime soon.