Fox News pulls its programming in the UK due to low ratings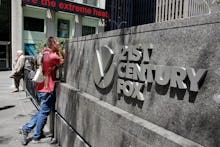 The right-wing cable news channel Fox News will no longer air in the U.K., its parent company said Tuesday.
A spokesperson for 21st Century Fox said in a statement that the company made the decision because of Fox News' low viewership in the U.K. The network averages a few thousand viewers over the course of the day in the U.K., the spokesperson said.
"We have concluded that it is not in our commercial interest to continue providing Fox News in the U.K.," the spokesperson said in the statement.
The last airing of the channel, which has been on the air in the U.K. for 15 years, was 4 p.m. Tuesday local time.
The Guardian was first to report the news.
The shutdown of the channel in the U.K. comes as 21st Century Fox continues to pursue a takeover bid of the U.K.-based Sky U.K. The British regulatory body Ofcom, which continues to review the proposed takeover, recommended a further review of the bid in June, citing concerns that media mogul Rupert Murdoch and his family trust would have too much media influence in the country if the deal were approved.
"Our report finds that the proposed transaction raises public interest concerns relating to media plurality," the regulatory body said in June. "It identifies a risk of increased influence by members of the Murdoch Family Trust over the U.K. news agenda and the political process, with its unique presence on radio, television, in print and online."
The Murdoch family, which unsuccessfully tried to purchase Sky in 2011, already owns three newspapers in Britain, as well as 39% of Sky.
Last week, after Ofcom said it would review new evidence that might affect its final recommendation, it submitted a report to the British government about how to best move forward.
A series of lawsuits against Fox News in the U.S. involving allegations of sexual harassment and racial discrimination, have played a role in the ongoing review of the proposed deal. Several lawyers representing some of the people who have sued the network have appeared in front of regulators and have lobbied for the deal to be blocked.
Fox is offering $15 billion to take over Sky.