Houston debunks rumor that immigrants seeking shelter will be asked to show their papers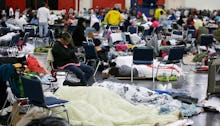 The city of Houston late Monday announced that those impacted by Hurricane Harvey would not be asked about their immigration status or for their papers if they seek help at a shelter.
The announcement — which was released in tweets both in English and in Spanish — was an apparent attempt to assuage fears those in Houston's immigrant community may have about the risk of going to the temporary shelters that have cropped up as the city reels from devastating flooding in the wake of the storm.
It was not immediately clear what specific "rumor" the city addressed in its tweets Monday. Multiple calls to the office of Houston Mayor Sylvester Turner on Tuesday went unreturned.
But Astrid Dominguez, an immigrant rights strategist at the ACLU of Texas in Houston, noted that the flooding this week comes as the state braces for the implementation of its anti-immigrant SB4 law, which goes into effect Friday.
"The community was already in this state of anxiety about what's going to happen," Dominguez said by phone Tuesday afternoon. "During a natural disaster like Hurricane Harvey, it's something that's in the back of their minds."
Under SB4, known by some as the state's "Show Me Your Papers" law, local police are mandated to comply with federal requests to hold criminal suspects for possible deportation — and can lose their jobs or be prosecuted if they fail to do so. Further, it permits officers to inquire about the immigration status of anyone they stop — even, in some cases, the victims and witnesses to a crime, according to NBC News.
"We all know by now what that law does," Dominguez said. "This is something the immigrant community faces every day, so they also have that to be concerned about."
Harvey made landfall last Friday as a Category 4 hurricane, but soon downgraded to a Category 1 and then to a tropical storm as it battered Texas on Saturday. Houston, which has endured days of heavy rains, has experienced severe flooding in the storm's aftermath.
Dominguez praised the city — one of the most diverse in the nation — for assuring immigrants that they will not be risking their status in the country if they seek shelter, saying that "the main focus should be everybody's safety."
"I applaud the city of Houston for coming out and saying that," Dominguez said. "[The community] needs clarity."
Still, concerns remain for immigrants in the state.
While Texans seeking shelter in Houston will apparently not be forced to show their papers or be asked about their immigration status, HLN reported Tuesday morning that evacuees would likely need to present identification when seeking recovery assistance.
Mayor Turner — a lawyer — on Monday tried to address immigrants' concerns, telling reporters that he would "represent them myself" if anyone faced deportation as a result of trying to get help.
"I don't care who you are, I don't care what your status is," Turner said. "I do not want you to run the risk of losing your life or a family member because you're concerned about SB4 or anything else," he said.
Still, Dominguez said, the immigrant community remains in a state of limbo about the law — a manifestation of President Donald Trump's crackdown on sanctuary cities, which was signed by Texas Gov. Greg Abbott in May.
"All this anxiety, all this uncertainty, comes from the rhetoric we've been experiencing this year," Dominguez said. "SB4 goes into effect on Friday and the community is aware of that."