Judge tosses Sarah Palin's defamation lawsuit against 'New York Times'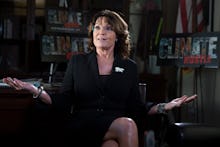 A U.S. judge on Tuesday dismissed a defamation lawsuit against the New York Times brought by former Alaska Gov. Sarah Palin, ending a monthslong legal battle stemming from a corrected editorial published in the Times.
U.S. District Judge Jed Rakoff wrote in the opinion and order that Palin failed to show the Times acted with actual malice, the legal requirement for public figures to prove defamation.
"Nowhere is political journalism so free, so robust or perhaps so rowdy as in the United States," Rakoff wrote Tuesday, which can be read in full here. "In the exercise of that freedom, mistakes will be made, some of which will be hurtful to others. Responsible journals will promptly correct their errors; others will not."
In June, Palin sued the Times for an editorial written by the editorial board following a shooting at a congressional baseball practice that wounded five people, including House Majority Whip Steve Scalise. The editorial tied Palin's political action committee to a 2011 mass shooting in which Jared Lee Loughner killed six people and severely hurt Arizona Rep. Gabby Giffords.
The original editorial first claimed, falsely, that Palin's PAC had put "Giffords and 19 other Democrats under stylized crosshairs" in a map and suggested Loughner may have been incited by the image. The editorial was corrected the following day to say that electoral districts, not pictures of individual lawmakers, were shown under stylized crosshairs. The corrected version said there was no established link between the map and the 2011 shooting.
"If political journalism is to achieve its constitutionally endorsed role of challenging the powerful, legal redress by a public figure must be limited to those cases where the public figure has a plausible factual basis for complaint that the mistake was made maliciously, that is, with knowledge it was false or with reckless disregard of its falsity," Rakoff wrote. "Here, plaintiff's complaint, even when supplemented by facts developed at an evidentiary hearing convened by the court, fails to make that showing."
Palin's lawyers had argued that the Times published information it "knew to be false," and that it had acted intentionally to advance and profit from its political agenda. Palin sought $75,000 in damages. The Times had filed a motion to have the case dismissed, saying Palin could not prove "actual malice."
Palin's lawyers had planned to subpoena nearly two dozen Times reporters for the case to look for evidence of reporters' "negative feeling about her," and had requested any internal communications about Palin going back to 2011. Those requests were ultimately blocked.
The Times' editorial director, James Bennett, who edited the article in question, took the stand in August and testified he did not intend to imply a "direct causal link" between the 2011 mass shooting and the ad from Palin's PAC.
In a statement to Mic, a spokesperson for the Times said the company was "delighted" by the case's dismissal.
"Judge Rakoff's opinion is an important reminder of the country's deep commitment to a free press and the important role that journalism plays in our democracy," the statement read. "We regret the errors we made in the editorial. But we were pleased to see that the court acknowledged the importance of the prompt correction we made once we learned of the mistakes."
Requests for comment to Palin and her attorneys were not immediately returned.