In Pittsburgh focus group, Trump voters sour on the president, call him an "abject disappointment"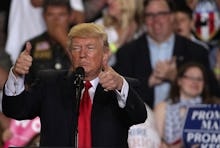 Voters in Pittsburgh didn't have kind words for President Donald Trump Tuesday night, calling the president an "abject disappointment" and "a nut" and complaining that Trump has been too focused on himself rather than the people who elected him.
And those were just the Trump voters in a 12-person focus group, which was held in Pittsburgh by veteran Democratic pollster Peter Hart — who helps run the NBC News/Wall Street Journal poll.
The focus group was further proof that Trump's base, once seen as unshakable, is slowly cracking just 200 days into his presidency.
Trump's approval rating has fallen six points since he took office. At the same time, his disapproval has skyrocketed — rising more than 12 points since Inauguration Day.
Among Republicans, Trump's approval has fallen from 89% on when he was inaugurated to 78% now, according to polling data from Gallup.
"I traditionally am in the 'give the guy a chance,'" David Turner, a Trump voter, said. "His learning curve has been a little disappointing, meaning he hasn't caught on like everyone has said here, 'If he did this, he'd be OK.'"
Turner added that Trump would "have to really get cracking" in order to win back his support.
Tony Sciullo, another Trump vote, called Trump an "abject disappointment," and said Trump's conduct has hindered his ability to get things done.
"The messenger is overwhelming the message," Sciullo said.
Christina Lees, a Trump voter who described herself as an independent who leans Republican, said she's now frustrated by Trump.
"We know he's a nut. Everyone knew he was a nut. But there comes a point in time when you have to become professional. He's not professional, forget about presidential," Lees said.
The fact that Trump voters in Pittsburgh, located in a state Trump won by just 44,000 votes in 2016, are already expressing frustration with his presidency should be a worrisome sign for Trump.
Trump has bragged that part of his strength as commander-in-chief was his ability to win in places like Pennsylvania, which hadn't gone Republican since 1988.
"I was elected to represent the citizens of Pittsburgh, not Paris," Trump said in June when announcing his decision to pull out of the Paris climate agreement.
"I look at a president to be presidential, someone who is calm, focused. Ronald Reagan came in as an actor, but he goes down as one of our better presidents," Brian Rush, a Republican who voted for Trump, said. "He came in not as a politician. In some aspects, he's almost turning into a politician in a different way, saying things he thinks his base wants to hear. He's let me down."