Harvey by the numbers: Here are the statistics behind the "500-year flood" ravaging the Gulf Coast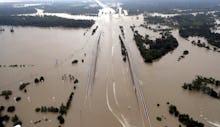 Hurricane-turned-tropical-storm Harvey entered its sixth day in the Gulf Coast region Wednesday, as the devastating storm made its second landfall near Cameron, Louisiana.
The most powerful hurricane to hit the United States in more than a decade, Hurricane Harvey has left destruction in its wake, flooding homes and businesses and stranding residents as the rainfall totals continue to climb.
According to the National Hurricane Center, rainfall is expected to continue through Friday in Louisiana and as far north as Kentucky, though the storm should weaken as it moves inland. While the rain has finally moved out of southeastern Texas, the weather service warned Wednesday that "ongoing catastrophic and life-threatening flooding will continue," and acting Homeland Security Secretary Elaine Duke predicted Wednesday the storm's effect in the state will require a "many-year recovery."
Here are the current statistics behind this devastating weather event, which are subject to change as the storm and rescue efforts continue.
21 trillion
Number of gallons of rainfall that had fallen in Texas and Louisiana as of Tuesday night, weather analytics company WeatherBELL reported.
130
The estimated maximum sustained winds recorded as the hurricane made landfall near Rockport, Texas, on Aug. 25, according to the Weather Channel.
4,323
Number of days since a major hurricane (Category 3 or above) made landfall in the United States prior to Hurricane Harvey, according to meteorologist Philip Klotzbach. The last one to hit was Hurricane Wilma in 2005, the same year Hurricane Katrina destroyed much of New Orleans.
51.88
Inches of rainfall in Cedar Bayou, Texas, as of Tuesday afternoon, according to the National Weather Service. The total broke the record for rainfall from a single storm in the continental United States, the New York Times reported, and could surpass the overall U.S. record of 52 inches set by Hurricane Hiki in Kauai, Hawaii, in 1950.
13,000
Number of people that have been rescued in the Houston area as of Wednesday morning, according to local and federal agencies cited by the Associated Press.
30,000
Number of people who are expected to be forced out of their homes due to Hurricane Harvey, according to the Washington Post.
8,800
Number of federal staff deployed to provide support to those affected by Harvey, according to FEMA. The federal agency reported Tuesday afternoon it has transferred over 306,000 meals and 687,000 gallons of water to Texas and has specifically deployed over 1,100 Urban Search and Rescue personnel.
In addition to the staff deployed by FEMA, the U.S. National Guard is reportedly expected to send up to 30,000 troops from Texas and other states to help with the relief effort, according to the New York Times.
30
Number of reported deaths that have occurred as a result of the hurricane, the New York Times reported Wednesday morning.
49,000
Number of homes that had suffered flood damage as of Wednesday morning, according to Reuters. Additionally, more than 1,000 homes have been destroyed in the storm.
$51 billion to $75 billion
Estimate on the overall economic cost of Hurricane Harvey, as determined by Moody's Analytics and cited by Reuters.