Here are the 3 major narratives popping up in the far-right media's Harvey coverage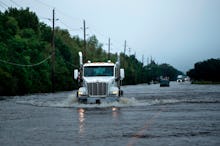 As now-tropical storm Harvey continues to hammer much of the Texas and Louisiana coastline, far-right media outlets are seizing on stories of storm-struck residents coming together to aid one another in their hour of need.
It's an otherwise innocuous narrative — one that wouldn't be out of place on any website that surfaces heartwarming human interest stories — but in the case of the right-wing media, they serve an explicitly partisan end.
In a story that ran on Breitbart News' front page Tuesday, senior-editor-at-large Joel B. Pollak argued that the civilian response to Harvey projected "collective strength."
"After three days of Hurricane Harvey, the message emerging from Houston and the Texas coast is not one of chaos and destruction, but of collective strength," Pollak wrote.
That strength in unity, he continued, proves that President Donald Trump's fiercely criticized remarks in the wake of the deadly violence at Charlottesville, Virginia, may not have been as divisive as the so-called mainstream media would have viewers believe.
"And President Donald Trump, attacked for weeks for allegedly dividing the nation, is drawing attention to its unity," Pollak wrote.
He concluded his story with a sendoff to Trump and the American people for rising above the mainstream media's post-Charlottesville coverage of Trump:
The South was deemed by its cultural betters to be just as backward and racist as ever, a living rebuke to the nation. Instead, the people of Texas are showing the world that beneath the mindless political rhetoric, we remain united and strong. The political winner thus far is President Trump. The real winner is us, the United States of America.
At the Daily Caller, reporter David Hookstead echoed Pollak's argument in a piece titled "The response to Houston has destroyed the media's narrative about division In America."
"The response to Hurricane Harvey is proof the media doesn't know a single thing about America," Hookstead wrote. "The media pushed the narrative of division after a small handful of idiots got together in Charlottesville. They tried to convince people what happened in Charlottesville was representative of the real America. It's the media, so of course they don't have a clue what they're talking about."
Hookstead's article — which concludes by encouraging readers to prove America is united by sharing the photos of Texans helping one another weather the storm — had garnered more than 22,000 Facebook shares at press time.
But while leading coverage at the major far-right outlets may have focused on stories of unity, others led by surfacing stories of alleged looters using the chaos in Harvey's wake as an opportunity to steal.
Over at Gateway Pundit, reporter Joshua Caplan wrote about a viral video — viewed more than a million times on Facebook — that claims to show two men walking through Houston carrying electronics they stole. The alleged theft is not depicted in the video.
Conservative Daily, a Facebook hub for right wing news that appears to be run by Independent Journal Review, shared an IJR story about Houston Police Chief Art Acevedo's statement on the arrests of Harvey looters. Though Acevedo's statement was more of an assurance to the public that police would help them protect their property, IJR writer Kyle Becker warned that Texans would use fatal violence in order to stop thieves.
"As two individuals who attempted to break into homes during Harvey's landfall know, if law enforcement is not available, Texans will shoot to defend their property and kill if necessary," Becker said.
When Conservative Daily shared that story on Facebook, it focused on the looters that have been allegedly shot and killed by civilians. The post garnered more than 18,000 likes.
But while these outlets focused on exposing wrongdoers, over at InfoWars, far-right conspiracy theorist Alex Jones suggested that Democrats were putting lives at risk in order to blame Trump for the deadly aftermath of Harvey.
In a video, Jones argued that Houston Mayor Sylvester Turner's decision not to evacuate the city was "part of a plan" Turner had to smear the president.
"Is Sylvester Turner conscious of what he's doing and they're wanting to blame Trump so they want to make the disaster as bad as possible?" Jones asked. "Is it complete ineptitude, or is it part of a plan?"
On Saturday, Turner told Houston residents that it would be safer to "hunker down" and stay put in their homes rather than evacuate the city in preparation for the massive flooding and power outages.
"Quite frankly, leaving your homes, getting on the streets, you'll be putting yourself in more danger and not making yourself safer," he said. "And so, we're just asking people to hunker down."
Though Jones may have been the only major voice in far right media to suggest a liberal conspiracy at play, he wasn't the only one to attack Turner for his guidance to Houston residents. Right Wing News and Patriot Beat, two social news hubs that disseminate conservative news to Facebook, criticized the Democratic mayor, with the former strongly asserting that the liberal media would have no way to blame Trump for the fallout from his decision.
The devastation from Harvey, which made landfall in the United States along the Texas Gulf Coast on Friday, has left at least 30 dead and 280,000 without power. According to one estimate, it may cost the United States up to $40 billion. Trump is expected to visit Texas again on Saturday.
Harvey's devastating impact represents the first real test of Trump's ability to respond to cataclysmic weather events, and far-right media wants you to know he's passing with flying colors — despite the best efforts of Democrats and looters, alike.