'Insecure' costume designer Ayanna James on highlighting black designers and those nude scenes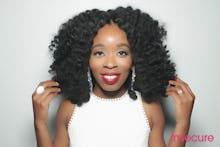 Ayanna James' styling on Insecure gets people talking.
So much so that this season, while Insecure airs on HBO, James, the show's costume designer, responds in real-time on Twitter to people who are dying to know things like where she that "FBI Killed Fred Hampton" shirt for Issa, or where one of Molly's designer dresses came from.
Their emotions can vary, from curiosity to desperation.
This is, as you can imagine, a dream scenario for a costume designer. Designers, of course, want people to appreciate the clothes, but they also want people to understand designers and stylists on TV shows tell as much of a story as the script does.
"I give context. Costumes help give context," James said in an interview with Mic. "You help create the world. So there's a lot of psychology that goes into costume design. When I get a script, I read through and think, 'OK, what's going on with the character in this scene?' The costume is one of the first things you see on a character, besides the face."
One of the most adored aspects about James' work on the show thus far is that many of the pieces the characters wear are highly affordable and accessible. James' costume department on the show is always on the lookout for cool T-shirts, which is something showrunner and star Issa Rae (who plays Issa on the show, and whom James styles outside of the show too) already loves, as does her audience.
Rae's character has worn a hoodie with a picture of Harriet Tubman, a sweater reading "The Last Poets," which is a nod to the groups of poets and musicians that arose from the 1960s civil rights movement, and a T-shirt depicting Tupac giving the middle finger, all of which fans have flipped over.
"So I have a department, and I'm like, 'OK, this is a black show. We're bringing people into this black world,'" James said. "Get me vintage T-shirts from some of my favorite artists. Find me the unique pieces, and we'll all shop and bring it in. It ends up being this scavenger hunt."
That Fred Hampton shirt ended up on the show when it came to James, on the back of her own assistant.
"I have meetings with the executives [about] what we want the costumes to look like," James said. "She came in and I was like, 'Where'd you get that sweatshirt?' And she gave it to me, right off her back."
Then James got one custom-made for the show from the sweatshirt's original designer.
But beyond incredibly cool and politically aware T-shirts, James has put in a concerted effort to use her platform to highlight African designers and black-owned brands. Rae's character has worn sweatshirts from Kenyan-American designer Recho Omondi, dresses and shirts from Nigerian-based womenswear label Maki Oh Lagos and tons of jewelry from Almasika, a black-owned brand. Molly too has worn T-shirts from brands like Sammy B Designs.
Black designers became a central part of styling season two after James realized the platform she had with the show to shine a light on these designers in a meaningful way.
"After season one, we saw what really resonated with our audience," James said. "I saw just how invested people were in the costumes, and we all decided that we wanted to level up and step it up for season two, knowing that I have this platform and there's so many amazing African designers. It's challenging for them to get exposure, and they're really talented, so any opportunity that I had to highlight someone up and coming, I did it."
That attention to detail and commitment to celebrating black talent is groundbreaking, as is the show's use of male nudity, which James is also involved in. For every scene in which Lawrence or Dro show their backsides, James is there to help.
"I don't know that many shows have show male nudity and black male nudity in the way we're presenting it," James said. "On a costume perspective, it's always interesting because I'm the kind of their last line of defense. Their first and last line of defense. I have to know what the actors are comfortable with and what the directors want. We end up creating these very unique costumes where they have the actor clothed. We'll make custom panties."
The level of attention James is getting from this show is something she never really thought was going to happen to her. She started styling in 2011, after launching a fashion blog of her own. And although she's worked with Rae for five years now, she's still in awe at just how much her fashion choices have affected people, and attracted them to the show.
"I love to know that a brand has sold out of something because I've put it in a show, or an editorial picks up a designer because they saw Molly wearing it," James said. "It feels like a movement. And I love to see if the viewers catch my little easter eggs. I love to see how they interpret the wardrobe. I like to see that they're understanding it, and then everyone showing love to the show, that's the coolest thing."
Due to the success of the show, Insecure's already set for a third season, and James is ready for it, as soon as those scripts get written.
"Personally I'd love to put custom designs in there," James said. "We did a season when we shouted out indie designers, and I'd love to continue to do that as well as design myself. You're supposed to work like the reality of the world, and real people go to Target and shop. But in the show, if you get flashbacks or hallucinations, you get more opportunities to mix it up."