Pro-Trump commentator Tomi Lahren joins Fox News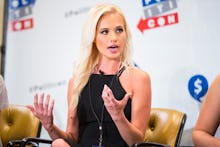 Conservative commentator Tomi Lahren is joining Fox News as a contributor, the cable channel announced Wednesday.
Lahren will primarily appear as a contributor on Fox News host Sean Hannity's prime-time program, Hannity, and she will contribute to the channel's other opinion programs. Lahren will appear on Wednesday night's episode of Hannity in her new role.
Additionally, Lahren will "have a signature role on an FNC digital product currently in development," according to a company release.
When asked to elaborate on the nature of the digital project in development, a network spokesperson declined further comment and referred Mic to its press release.
The news of Lahren's move to Fox was first reported by the Washington Post's Erik Wemple.
Lahren became known as a staunch pro-Trump commentator and host on the right-wing television channel the Blaze, founded by ex-Fox News host Glenn Beck. Lahren, who has also worked for the conservative One America News Network, built a considerable following for her "Final Thoughts" segments, in which she spouted pro-Trump and anti-immigrant talking points.
Lahren was suspended and ultimately fired from the Blaze for saying in an interview that she was pro-choice. Since then, she had been working for a pro-Trump super PAC, Great America Alliance.
August 30, 12:08 p.m.: This story has been updated.