Aerie finally launches a more inclusive nude bra and underwear collection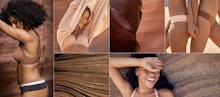 Nearly three years after Nubian Skin launched with a mission to redefine "nude," 15 months after Naja introduced different shades of nude lingerie and five months after Target made its nude lingerie and hosiery more inclusive, the Aerie brand is finally jumping on board. Aerie, which prides itself on body positivity and not airbrushing its models, announced Wednesday it would be adding five new nude shades to its nude palette.
Bras in its Real Me collection, which features bras and underwear that are thin and breathable, now come in five new nude shades — Honesty, Inspiration, Strength, Energy and Confidence — which vary from light brown to dark brown.
Before this launch, the bras came in basic colors like pink, peach, black and grey. The Real Me thongs, boy briefs, bralettes and unlined bras are also available in some of the new shades.
"We are so excited about the Real Me Collection because it goes beyond color — not only are we offering a beautiful palette that includes a wide range of nudes, but the amazing second-skin soft fabric of these bras lets you feel like your real self," Jennifer Foyle, Aerie's global brand president, said in an email. "These bras have ultimate comfort and are super lightweight, all while providing amazing support with the right amount of coverage. This is a collection truly designed to move with you, shape to you and feel like you."
And true to Aerie's vow to not digitally augment its models, a number of models used for the reveal have visible stretch marks and scars.
What is still worrisome, though, is that for a company that prides itself on being progressive and "real" and not photoshopping its models — the brand has yet to use a truly plus-size model — this new nude collection feels pretty late.
In the time Aerie has spent not addressing the nude problem, Nubian Skin has released multiple styles of its bras, underwear and even tights in various shades of nude. Christian Louboutin has created multiple collections of shoes in diverse nude shades. Entire brands have been created around the idea that nude lingerie shouldn't mean just light-brown garments, while mainstream brands like Target have embraced the idea, too.
In other words, a major brand that tries to appear inclusive just now jumping onboard makes it feel like this was a pretty low priority.
Foyle responded to this criticism by saying: "Making bras and undies so effortless you forget you're wearing them takes a lot of work! We've taken our time and worked hard on this collection because it's so important to us to make every single element of every single style the absolute best it can be for our girls."
August 31, 2017, 8:37 a.m.: This post has been updated.