This Muslim community group sprang into action to help Harvey victims in Houston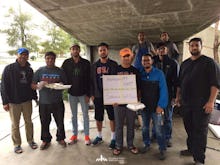 In the wake of the devastation caused by Harvey, which made landfall in Texas on Friday as a Category 4 storm, countless Houstonians have stepped up to help their neighbors — offering food and supplies to people who have lost everything in the ongoing flooding. For one Muslim youth group, volunteering their service wasn't even a question.
The Houston-area chapter of the Ahmadiyya Muslim Youth Association, a national organization of young Ahmadi Muslim men, mobilized quickly to respond to Harvey.
Even amid Tuesday's extreme flooding, they cooked and served hot food, brought snacks and supplies to shelters and checked on neighbors.
"This is what it means to be God's children, this is what it means to live in the image of our creator, to act in this manner," Bilal Rana, 38, the president of the Ahmadiyya Muslim Community USA's Youth Association, said in a phone call on Wednesday.
All year long, the youth group, which has thousands of members across the U.S., does service work; organizing blood drives, planting trees and cleaning up highways. When Harvey hit on Friday, there was no question that the group's Houston chapter would do everything they could to help.
"The volunteers are helping when they themselves need help," Rana said. "In their own time of need, there are people who are saying, 'How can I help those in greater need?'"
In addition to serving out hot lentils, soup and rice, the group's volunteers collected basics like baby food, wipes, diapers, fruit and nonperishable snacks and handed them out to displaced Houstonians.
"They went so quick at the shelters, the food ran out, all of the handy snacks went out very, very fast," Rana said. "There's really high demand."
Rana said that more members of the youth association and its sister group for young Ahmadi Muslim women were coming in from other places to help with disaster relief. For Rana, performing acts of service in a time of crisis is both a religious obligation and a chance to show the country what Muslim values really mean.
"It's an opportunity for us to display our true character to the public and say there's no reason to be afraid of us," Rana said. "We're just as American as anyone else. ... We're not less American because we might have different complexions or some of us are immigrants."
On Wednesday, Rana was on his way to deliver more food and supplies to people in need. He had his 10-year-old son with him, he said, because "I thought it was a great life lesson."
Rana added that he hoped his youth group's Harvey relief work would bring some hope to the frightening scene in Houston this week: "A city needs to see that a neighbor is giving to another neighbor," he said.