Nobody's using Facebook Stories — but holy moly, the filters are incredible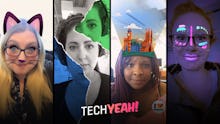 You've probably never heard of Facebook Stories. Like Snapchat Stories and Instagram stories, Facebook's feature, introduced in March, lets you publish video and photo updates for a short period of time. The updates sit at the top of the Facebook app, which makes it painfully obvious that virtually nobody uses it.
You tap those little circles to see Stories people have posted. As you can see, only one of my 2,000 Facebook friends has used Facebook Stories recently.
But here's the thing about Facebook Stories that nobody's talking about: The face filters are amazing.
Seriously, they're more flattering and more fun than Snapchat's and Instagram's filters, and there are significantly more options to choose from.
So you should do what I've started doing: Take selfies, photos and videos using Facebook Stories filters, download the pics and upload them to the social network of your choice, where your friends actually hang out.
I recruited some of my coworkers to demonstrate the filters below:
You can be a cartoon queen.
You don't have to go to London. London can come to you.
Why spend money on LSD when you have Facebook Stories?
Glitter beards are a real thing. No joke.
Think you can read my mind? Not anymore!
I look like I'm from the intro from Saved by the Bell.
There's a new Terminator in town.
Impressive, right? Here's how to use it.
First, open your Facebook app and swipe to the right. That opens your front-facing camera. To see the filters, tap the little magic wand on the bottom left.
From there, you'll see the filters at the bottom of the screen. Scroll through them — there are more than you'd expect. Once you've chosen your filter, tap or hold the center button to take a photo or a video. To save it, tap Save on the bottom left.
Once you save the photo or video, it'll show up in your Photos app. You can then upload it to Instagram or Snapchat. Your friends won't know how you got such cool filters, and you don't need to be an early adopter in a social media ghost town.
Sign up for Tech Yeah! — your biweekly digest with a helpful and hilarious tech tip for upgrading your life. Yes, there's a hack for that.