What Melania Trump wore her 32nd week as first lady — including those hurricane heels and FLOTUS hat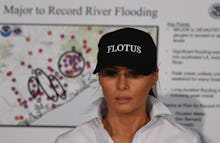 It's been a long week for Melania Trump.
Usually one to either steer clear of controversy or just disappear, Trump landed in the middle of a fashion controversy this week when she wore sexy, fashion-y stilettos on her way to Texas to survey damage done by Hurricane Harvey.
Plenty of people found them inappropriate, and Trump ended up changing on Air Force One. But still, for a first lady as quiet as she is, this is how fashion can do a whole lot of talking.
Here is what she wore this week, hurricane heels and all:
Friday, Aug. 25: A green Missoni dress for departing the White House
For her first appearance this very notable week, Trump appeared in a shimmery green wrap dress with patterned detailing from Missoni.
Never one for sparkle or pattern, this was unexpected from Trump. She paired the dress with contrasting orange heels from Manolo Blahnik for bit of color too.
Sunday, Aug. 27: A surprisingly affordable all-pink J.Crew look for coming home
This is a page right out of Michelle Obama's book. For the first time that we know of in her stint as first lady, Trump wore an item of clothing many of us could afford: a pink gingham button-down from J.Crew, priced at $75, though it's now sold out.
During her time as first lady, Obama wore J.Crew frequently, even wearing J.Crew gloves during Barack Obama's first inauguration, and a J.Crew cardigan when meeting the British prime minister's wife.
Trump's pink pants were J Brand, which go for more than $200, and her shoes were fuchsia ballet flats, from a designer that's yet to be identified.
For a first lady that's known for wearing incredibly expensive clothing and accessories, like Birkin bags for instance, this was entirely unexpected as well.
Tuesday, Aug. 29: The hurricane heels before her flight to Houston
Trump has had her fair share of controversies. There were the pussy bow blouses during presidential debates and as first lady, and then in the beginning of her time as first lady, her tendency to not wear American designers.
But putting that all into perspective, Trump caused her biggest fashion controversy this week, with a simple pair of black snakeskin sky-high stilettos, which she wore on her way to Texas, to see the destruction from Hurricane Harvey.
We dug deep into the outrage surrounding these images. First ladies (and presidents too) are known to dress down when they're going to devastated and/or mourning areas. It's meant as a sign of compassion, and a sign that they're really not that different from you.
But these heels were not about seriousness — they were about fashion. They were sexy, even.
Luckily she changed on the flight.
Tuesday, Aug. 29: A quick-change on the flight to Texas brings sneakers and a FLOTUS hat
And here is what she changed into. They're not exactly galoshes, but sneakers that felt much more appropriate to wear to a devastated area. She also changed her shirt, swapping that green bomber jacket and black shirt for a neat white button-down.
Then of course there was that FLOTUS hat, which we're assuming is a custom creation.
Friday, Sept. 1: A simple black shift for a White House meeting
For a meeting in the Oval Office to discuss Hurricane Harvey relief efforts, and her last appearance this week, Trump wore a black shift dress, with buttons diagonal across the front and a leather belt at the waist.
No designer has been identified for this look just yet.
Let's see if next week is kinder to the first lady and her particular sense of style.
You can see previous recaps of what Melania Trump wore here.