GOP wanted to cut $1 billion from disaster relief for Trump's border wall. Harvey complicates that.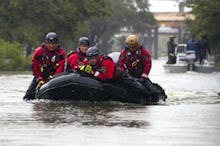 Upon their return from the August recess, House Republicans are set to debate a government funding bill, a piece of legislation that seeks to cut nearly $1 billion in disaster relief funds to secure a down payment for President Donald Trump's border wall.
However, the devastation wrought by Hurricane Harvey — which has left thousands stranded after flood waters inundated parts of Houston and its surrounding areas — complicates that funding path.
Cutting funds from the Federal Emergency Management Agency's disaster relief fund amid a crippling natural disaster would be politically perilous in any year. But doing so for Trump's border wall would be even more damaging, given low public support for the wall and Trump's promise that Mexico would be paying for the project.
According to the House Appropriations Committee's Homeland Security budget, the Republican-controlled committee is seeking more than $875 million in cuts to FEMA.
But even House Republicans itching for a fight to secure resources to build the border wall admit now's not the time to be making those kind of cuts.
Instead, conservatives such as Rep. Mark Meadows (R-N.C.), chair of the House Freedom Caucus, said his caucus supports passing a short-term funding measure that doesn't include money for the wall, effectively delaying the border wall fight until Congress resumes budget negotiations in December.
"In talking to a number of my members, if there was a vote for a continuing resolution next week that did not include border wall funding, the majority of those members would be supportive of that," Meadows told ABC's Powerhouse Politics podcast, according to Politico.
Government funding expires Sept. 30. If Congress does not pass a funding measure before midnight on that date, the government will shut down.