'Hot Mic' podcast: Defense Secretary clarifies transgender ban, Tomi Lahren joins Fox News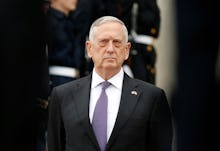 Listen and subscribe to the Hot Mic podcast from your mobile device:
Here are the important stories to know for Thursday, August 31:
1. Defense Secretary James Mattis made it clear that transgender military members who are still serving won't be affected by Trump's ban...at least for now.
2. Conservative commentator Tomi Lahren is joining Fox News as a contributor.
Direct from Mic's newsroom, Hot Mic keeps listeners informed with a daily run-down of top stories, breaking news and analysis from our news team.