Report: Kremlin-linked lobbyist at Trump Tower meeting appeared before Mueller's grand jury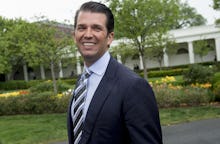 Rinat Akhmetshin, a Russian-American lobbyist who attended the now-infamous June 2016 Trump Tower meeting, recently appeared before a grand jury impaneled by special counsel Robert Mueller, the Associated Press reported.
Citing an anonymous source familiar with the proceedings, the AP said Akhmetshin's appearance before the grand jury signaled the importance of the aforementioned meeting to Mueller's probe into potential collusion between the campaign team of United States President Donald Trump and Russian officials.
That meeting, which was first revealed by the New York Times, was allegedly arranged so Kremlin-linked lawyer Natalia Veselnitskaya could give the Trump campaign team damaging information on opponent Hillary Clinton.
In attendance at that meeting with Veselnitskaya and Akhmetshin were Donald Trump Jr., the president's eldest son, Jared Kushner, Trump's son-in-law who serves as his senior adviser, and Paul Manafort, Trump's former campaign manager who is reportedly under investigation for matters related to his financial transactions.
It remains unclear what role Akhmetshin had at the meeting or whether the Trump campaign did actually receive damaging information on Clinton from Veselnitskaya before its close. For his part, Trump Jr. has denied obtaining any such information from the Kremlin-linked lawyer.
Neither Akhmetshin nor a spokesperson for Mueller gave on-the-record comment to the AP on the lobbyist's appearance.
A former Soviet spy known for his efficacy at promoting Russian interests in Washington, Akhmetshin has orbited the center of national intrigue since his attendance at the now-infamous Trump Tower meeting was first revealed in July. As a lobbyist for the Human Rights Accountability Global Initiative Foundation, Akhmetshin may have played a role in HRAGI's efforts to kill the Magnitsky Act, which sought to sanction Russian officials suspected of human rights abuses.
Though he once stood accused of architecting a massive hacking effort against a Russian mining company, those charges were dropped.
Akhmetshin denied any current links to the Kremlin in a text to the Times, defending himself instead as "the target of a well-coordinated and financed smear campaign."
Though an unusually noisy August pushed Mueller's probe into a possible Trump-Russia connection out of the national spotlight, new revelations may signal that a renewed focus towards those proceedings is on the horizon.
On Monday, the Times released an email between Trump business associate Felix Sater and Trump lawyer Michael Cohen in which Sater bragged that he would get Trump elected with the help of Russian President Vladimir Putin, with whom the U.S. has a frosty, adversarial relationship.
"Our boy can become president of the U.S.A. and we can engineer it," Sater wrote to Cohen. "I will get all of Putin's team to buy in on this, I will manage this process."
It was revealed that Cohen denied any collusion with Russia on Thursday morning.